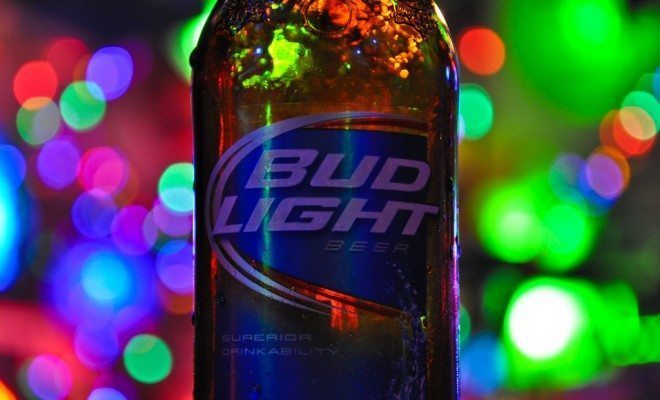 Image courtesy of [Ron via Flickr]
Society and Culture
Bud Light Removes "No From Your Vocabulary" in Misguided Campaign
By
|
Bud Light, produced by beer giant Anheuser-Busch, is apologizing after controversy broke out over one of the beer's labels. The brand has been using a number of slogans as part of its "Up for Anything" marketing campaign; however, one sparked a lot of controversy–the phrase that posited Bud Light as "the perfect beer for removing 'no' from your vocabulary for the night."
Bud Light….the perfect beer for marketers about to lose their job. #NoMeansNopic.twitter.com/dLWtDSMhXQ

— Jeff Barrett (@BarrettAll) April 28, 2015
There was a lot of backlash in response to this slogan, as many who saw it thought that it was an inappropriate, if inadvertent, nod to rape culture. The phrase "no means no" has become a popular rallying cry for those combatting the incredibly prevalent problems of rape and sexual assault. So for Bud Light to hint that its product takes away, in any way, the ability to say "no," struck plenty of negative chords.
Moreover, there are plenty of other things that people should say "no" to if they've been drinking–driving, to name just one. This slogan indicates that people drinking Bud Light would engage in activities they normally wouldn't–and that doesn't exactly scream responsible alcohol consumption. While Bud Light's slogan was supposed to be light-hearted, and presumably indicate that its beer would lead to a fun night where its consumers were open to new experiences, this slogan completely missed that mark.
Twitter users took to the social media platform to express a wide variety of reactions, ranging from disgust to mocking.
Sorry AB. NO does mean NO. No matter how much beer. #SoWrong #BigFail http://t.co/OXBbwQd4uq

— Rep. Stacey Newman (@staceynewman) April 28, 2015
Stolen from reddit: "No" always means "No"…especially if the question is: "Do you want a Bud Light?" #terribletagline#UpForWhatever

— TheRealLouisWeiher (@LouisWeiher) April 28, 2015
Bud Light has stopped production of the bottles featuring the slogan in question, although it won't be recalling the ones that are already on the shelves. The bottles are sold in packs with mixed labels, meaning a 12-pack may contain a few offensive labels, just one, or none at all. Logistically speaking, a recall would have been difficult, which is understandable. Also in response to the backlash, Alexander Lambrecht, Vice President for Bud Light, released a statement:
The Bud Light Up for Whatever campaign, now in its second year, has inspired millions of consumers to engage with our brand in a positive and light-hearted way. In this spirit, we created more than 140 different scroll messages intended to encourage brand engagement. It's clear that this particular message missed the mark, and we regret it. We would never condone disrespectful or irresponsible behavior. As a result, we have immediately ceased production of this message on all bottles.
It's good that Bud Light made the call to remove the slogan from its labels, but the fact that it took such a concerted backlash to do so is a bit concerning. While we shouldn't expect everyone to have an encyclopedic knowledge of every current social movement, "no means no" has been a pretty visible one. The fact that a single Bud Light marketing executive didn't think of the overall implications of their label is pretty surprising. Bud Light did the right thing by apologizing–hopefully in the future it gives a little more thought to what message it is sending to consumers.