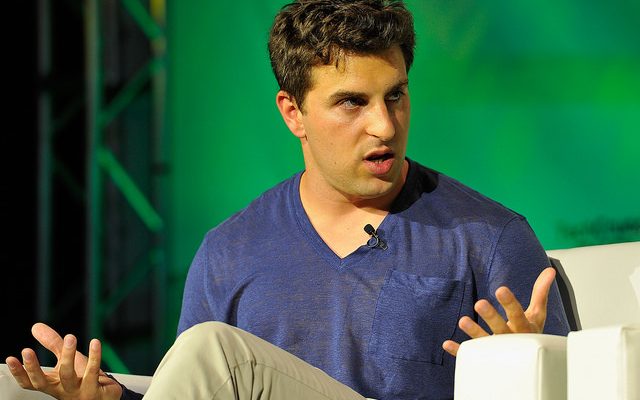 Image Courtesy of [TechCrunch via Flickr]
Society and Culture
Airbnb Announces New Changes to Fight Racial Discrimination
By
|
On Thursday, Airbnb announced a major overhaul of its racial discrimination policies in response to several reports of hosts exhibiting racial bias against renters on the home-sharing app.
Airbnb CEO and co-founder Brian Chesky (pictured above) released a statement on the company website revealing its investigative partnership with Laura Murphy, the former head of the American Civil Liberties Union's Washington D.C. Legislative Office. After looking into every aspect of Airbnb's platform, Murphy detailed her findings in a report titled Airbnb's Work to Fight Discrimination and Build Inclusion.
The report lists nine policy changes that would "greatly reduce the opportunity for hosts and guests to engage in conscious or unconscious discriminatory conduct." The changes include:
Beginning November 1, 2016, all app users are required to agree to The Airbnb Community Commitment, which pledges to "treat all fellow members, regardless of race, religion, national origin, disability, sex, gender identity, sexual orientation or age, with respect, and without judgment or bias."
Users must also agree to Airbnb's "strengthened and more detailed" nondiscrimination policy, the rules of which Airbnb claims are stronger than what are required by law.
Airbnb has put in place a full-time product team to fight bias and promote diversity.
It will encourage and grow instant book listings.
The company will experiment with reducing the prominence of guest photos in the booking process and enhancing other parts of host and guests profiles with objective information.
Airbnb will also improve its response to discrimination complaints and better enforce its policies.
It will also implement an open door policy for discrimination complaints.
Airbnb will offer new training for to help people learning how to fight bias.
The company will implement the Diversity Rule, a new policy that will mandate that all candidate pools for senior-level positions include women and candidates from underrepresented backgrounds. Airbnb will also expand efforts to bring economic opportunities to minority-owned business and encourage more people from underrepresented populations to use Airbnb.
The changes come after several Airbnb guests adopted the hashtag #AirbnbWhileBlack to vent their frustrations of being rejected from bookings–only to see the same rental be re-listed later.
#AirbnbWhileBlack #Airbnb pic.twitter.com/3pIGzQsP57

— Q. (@TinaLaBang) July 16, 2015
Black guests' suppositions were later confirmed by a study conducted by Harvard Business School students Benjamin Edelman, Michael Luca, and Dan Svirsky that found that requests from guests with distinctively African-American names are roughly 16 percent less likely to be accepted than identical guests with distinctively White names. The same also goes for hosts that are black, regardless of whether the property is cheap or expensive
The announcement of new policy changes designed to combat these types of biases is definitely a step in the right direction for the company. Unfortunately there will always be opportunities for people to still discriminate against others. At least now, both guests and users will hopefully be held more accountable.