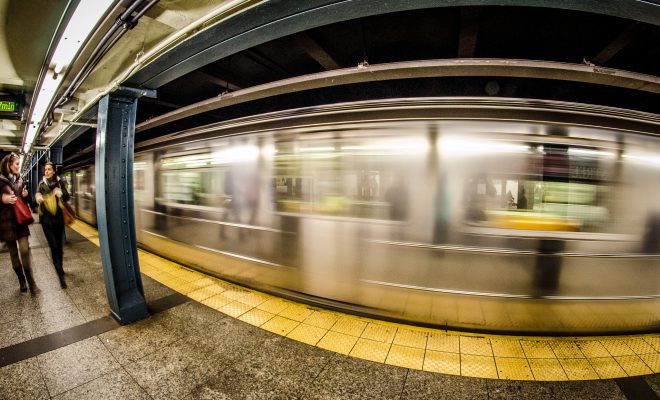 "Zoom goes the subway" courtesy of m01229; license: (CC BY 2.0)
Society and Culture
Activists Protest NYPD Subway Arrests, Hand Out Free Swipes
By
|
On Wednesday morning, activists from the New York City group "Swipe It Forward" offered free subway rides by swiping their cards for commuters in the city. Advocates said they wanted to protest the NYPD's "Broken Windows" policies and crackdowns on people who can't afford the subway fares. According to their numbers, police arrested almost 30,000 people for fare evasion last year, making it a top arrest category. Ninety-two percent of those were people of color. The NYPD also issued 120,000 tickets and summonses.
New Yorkers #SwipeItForward to protest policing of fare-beating https://t.co/9tKRxDUrqA #brokenwindows pic.twitter.com/mQWJxXho7j

— Waging Nonviolence (@wagingnv) November 3, 2016
A metro ride is $2.75, which adds up fast if you have to take the train to get to work, as most New Yorkers do. Many people can't afford the fare. Still, if you jump the turnstile, it can actually lead to an arrest and a night in jail. For immigrants, it could even lead to deportation. According to activists, each of the arrests cost the city's taxpayers $1,750. So, they're asking: why should it be a crime to be poor?
Advocates from eight civil rights groups said they would swipe people in, and also encouraged other commuters to use their unlimited cards to swipe for other people. The groups said in a statement:
By encouraging people to help each other, we offer a direct solution to the problem of criminalizing people who simply can't afford to pay the ever-growing cost of MTA fares (which are set to rise again),
They believe a better way to use the money that is spent on arrests would be to offer free or lower cost options of commuting for New Yorkers who can't afford the fares.
In NYC, advocacy groups are offering free subway fares at stations that serve primarily black, brown and poor commuters. #SwipeItForward. pic.twitter.com/wYd7S8TY9a

— B. Scott (@lovebscott) November 2, 2016
Dinick Martinez told the Gothamist that he needs swipes from other people in order to get to his adult learning classes–it is often a choice "between either food or MetroCard." Another commuter, Trinia McDonald, said that she sees  more police activity in Brooklyn where she lives than in Midtown where she works, where people jump the turnstiles constantly. "Here it's like the people of color are targeted," she said about her home neighborhood.
To ask someone for a swipe, or to ask for money after offering a swipe, is not legal according to the MTA Rules of Conduct. But offering a swipe to someone who is not asking or accepting a swipe that is offered to you is totally ok. With the unlimited card there is a time limit for how soon you can swipe it again, but it is ok to do it for someone entering the subway when you exit.
#SwipeItForward is legal and it's a nice thing to do! Offer to swipe in someone on your unlimited card! Poverty is not a crime. pic.twitter.com/hPF1p58htT

— Wes Nemenz (@wesnemenz) November 2, 2016
Activists were also protesting the disproportionately high fines that can come on top of an arrest. A single metro ride is $2.75 but the fine if you jump the turnstile is $100–making it 37 times the fare price. This was the latest day of subway protests, following similar campaigns in August in Harlem and Queens.