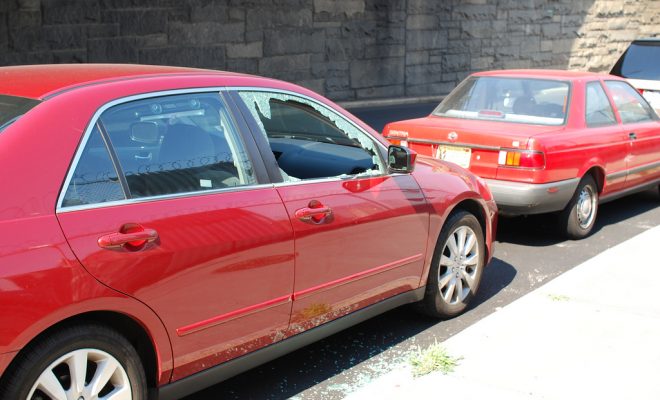 "Broken car window" courtesy of dumbonyc; License: (CC BY-SA 2.0)
Crime
What Do Motor Vehicle Theft Rates Look Like Across the U.S.?
By
|
When it comes to crime statistics, violent crime tends to get most of the attention. While it's often easy to overlook property crime because no force is involved, the FBI estimates that $14.3 billion was lost last year because of property crimes. Offenses that the FBI considers property crimes are burglary, larceny-theft, motor vehicle theft, and arson. The most expensive property crime is motor vehicle theft, which cost about $7,000 per crime on average in 2015.
According to FBI estimates, there were 707,758 motor vehicle thefts in 2015, causing more than $4.9 billion in losses. While property crime in general decreased last year, the number of motor vehicle thefts went up by 3.1 percent. Despite that increase, the number of vehicle thefts last year was lower than the number in 2011 and represents a decrease of more than 40 percent since 2006.
Because motor vehicle theft is a property crime, these numbers only include offenses where there is no force or threat of force involved. Additionally, because of the FBI's hierarchy rule, if multiple crimes are committed in the same instance, only the most significant crime (typically if a violent crime is involved), is counted in the reported crime statistics.
The map below illustrates the rate of motor vehicle theft in states across the country.
With a rate of 475 motor vehicle thefts per 100,000 people, California has the highest rate in the nation. Vermont had the lowest rate of motor vehicle thefts, with just 28 per 100,000 people. Following Vermont are nearby Maine and New Hampshire, with 61 and 67 per 100,000 people respectively.
When you look at individual cities, four of the top 20 cities with the highest rates of motor vehicle theft are in California, as shown in the table below–starting with Oakland, California, which had a rate of 1,523 vehicle thefts per 100,000 people in 2015, the highest rate among all cities with more than 100,000 residents. In total, Oakland had 6,389 motor vehicle thefts last year.
The table below shows which cities have the highest rates of motor vehicle theft among cities with a population larger than 100,000 people.