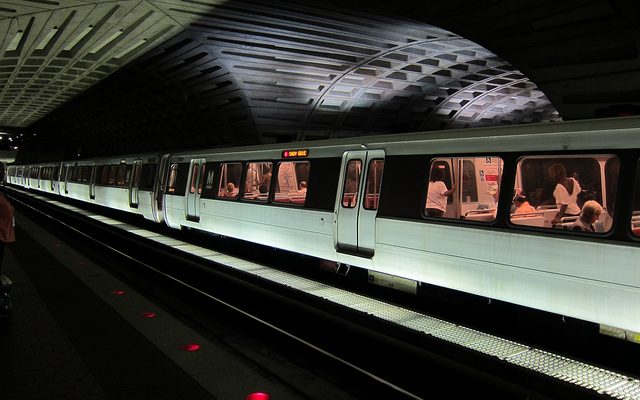 Image Courtesy of [Michael Hicks via Flickr]
Crime
How did a D.C. Metro Cop Become First U.S. Officer to Face ISIS Charges?
By
|
The Department of Justice announced Wednesday that a D.C. Metro Transit Police Department (MTPD) officer has been arrested on suspicion of supporting the terror network ISIS. This is the first case of a U.S. law enforcement officer facing terrorism charges. Here's what we know:
Who Is He?
The officer's name is Nicholas Young, and he is a 36-year-old man from Fairfax, Virginia. Young has been a MTPD officer since 2003, and has been under surveillance for suspected ties to terrorism for six years.
Breaking: Fairfax home searched, of MetroTransit cop Nicholas Young, 36 charged w attempting to help ISIS @wusa9 pic.twitter.com/AN99yIjQtB

— Peggy Fox (@PeggyTV) August 3, 2016
What Did He Do?
Young is accused of allegedly purchasing nearly $250 worth of gift cards that were intended for ISIS in order to purchase mobile messaging accounts to recruit others to join the terrorist organization.
He is also accused of making vague threats to kill FBI agents and informants or bring guns into federal court, according to a criminal complaint obtained by the Washington Post. The paper writes, "Young allegedly threatened to kidnap and torture an agent who interviewed him, and leave the head of anyone who betrayed him in a cinder block at the bottom of a Virginia lake."
How Long Has He Been on the FBI's Radar?
According to the DOJ's statements, Young has been on the FBI's radar since 2010. Here is a rough timeline of his encounters with the FBI:
In 2010, Young was interviewed by law enforcement about his relationship with Zachary Chesser, who later pled guilty to supporting a foreign terrorist organization and making threats against the creators of "South Park" for writing an episode about Islam he disliked.
In 2011, Young traveled to Libya one time and attempted to travel a second time. He also had several meetings with an undercover law enforcement officer, many of which were with Amine El Khalifi, who later pled guilty to planning to conduct a suicide bombing at the U.S. Capitol Building in 2012.
In 2014, Young met approximately 20 times with an FBI informant, who he advised how to travel overseas to join the Islamic State and evade detection.
In 2016, he contacted the same FBI informant about purchasing the gift cards for ISIS.
Is Metro Safe?
According to authorities, there was never any credible or specific threat to the Metro system. MTPD officials initiated this investigation and have been working closely with the FBI throughout the case. Metro Transit Police Chief Ron Pavlik said in a statement.
This investigation began with concerns that were reported by the Metro Transit Police Department, and it reinforces that, as citizens, we all have a duty to report suspicious activity whenever and wherever it occurs.
Young was terminated from the MTPD Wednesday morning after his arrest.