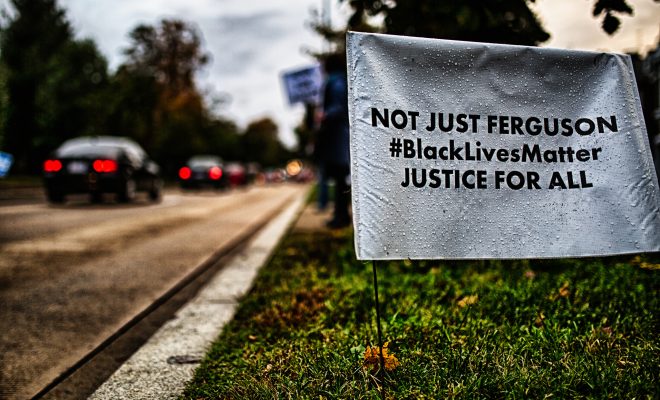 Image courtesy of [Johnny Silvercloud via Flickr]
Crime
Leek Moss: Social Media Reports Black Teen Killed by Officer in PA
By
|
This morning, I opened up social media to discover news about yet another Black man dead after an officer-involved shooting. Although details are still incredibly fuzzy, according to a few different accounts, last night a man named Leek Moss was shot and killed by Harrisburg, Pennsylvania police.
This was #LeekMoss yesterday morning w/ his newborn baby.

Police shot & killed him last night. pic.twitter.com/IwsZ5gREgH

— Shaun King (@ShaunKing) August 8, 2016
Local news reports say that the shooting was at roughly 9 PM last night, August 7, and did involve a police officer, but "details surrounding the incident are unclear at this time." Reports also discuss unrest and high emotions in the aftermath of the shooting.
As far as I could tell, there haven't been any news articles that have disclosed Moss's identity yet, but Twitter and Facebook have been mourning the 17-year-old father of a newborn infant, and a Facebook page that appears to be Moss's shows expressions of condolence from his family members and friends.
Additionally, a press conference was held this morning that went over some of the details of the shooting. According to coverage of that press conference, the officer involved had been active for under two years, and there may have been a knife involved. The circumstances are still under investigation.
#AltonSterling#PhilandoCastile#KorrynGaines#PaulONeal#LeekMoss

In one month…

— ugh (@thetrapgoth) August 8, 2016
#LeekMoss is a teenager and a new father. A beloved son and brother. Killed by police last night in Harrisburg, PA. pic.twitter.com/A4PknSbcSk

— Shaun King (@ShaunKing) August 8, 2016
#Harrisburg let Dauphin County DA @edmarsico know we want independent investigation into the shooting of #LeekMoss 717-780-6767

— Walter S Thomas Jr (@revthomasjr) August 8, 2016
#LeekMoss i hope this isn't true. Again #blacklivesmatter

— on purpose amy (@ToxicSabrinaAF) August 8, 2016
While details of what happened to Moss are still unclear, police have mentioned several times to "not believe everything on social media" and to "remain calm." While that's expected after a death, it's also worth noting that most probably wouldn't even know about shooting without social media's ability to disseminate information quickly.
More details are to come on Moss's death, but as more and more Black Americans lose their lives in officer-involved incidents, the need for the #BlackLivesMatter movement and the palpability of America's mistrust of police continues to ring true.