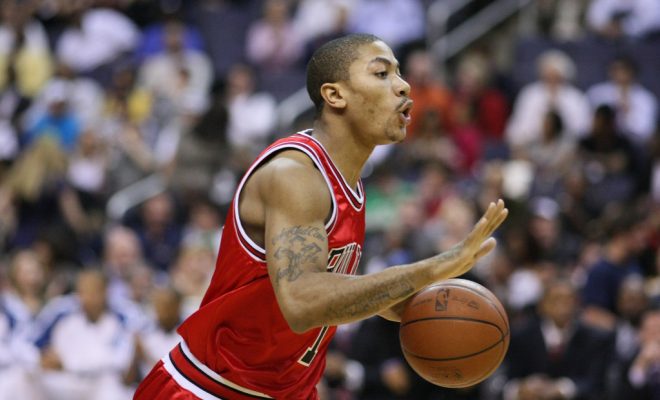 Image Courtesy of [Keith Allison via Flickr]
Crime
Detective in Derrick Rose Case Found Shot Dead
By
|
One of the detectives investigating the Derrick Rose rape trial in Los Angeles died from an apparent self-inflicted single gunshot wound to the chest, authorities said on Wednesday.
LAPD Det. Nadine Hernandez was a 19-year veteran with the force who worked in the Robbery-Homicide Division Special Assault Section. She was found dead in her home in Whittier at 3:27 p.m. on Tuesday. She was 44 years old.
In a statement, the LAPD said Hernandez was one of several detectives on the case, and that "the Rose investigation will continue unimpeded."
"At this point there is no indication that her case work had any connection to her death," the statement said.
Breaking: After the judge denied Derrick Rose's mistrial motion, the LAPD detective on the case is found, dead 😱 pic.twitter.com/qpCUA5Yjpt

— Spark Sports (@Spark_Sports_) October 12, 2016

Rose, a former Chicago Bulls star and current New York Knicks player, and two friends are being sued for $21.5 million for allegedly raping an incapacitated woman three years ago.
The plaintiff, whose name has remained undisclosed throughout the trial, accused Rose and his friends of drugging her at a party in L.A. and later gang raping her in her apartment.
She and Rose met in 2011 and maintained a two-year relationship. Rose claims the sex that night was consensual.
The latest developments in the trial came Wednesday when the defense called for a mistrial after the plaintiff's lawyers failed to produce three text messages exchanged between their client and Rose on the night the alleged rape took place.
Lawyers of the plaintiff said there was no new information contained in the texts. Rose's lawyers, however, said the texts show the accuser as having plotted sex in the hours leading up to the incident. They also claim the messages show her the next morning asking for a taxi reimbursement, seemingly undisturbed by the events of the previous evening.
The judge ruled that withholding the texts was not enough the derail the trial.
This Derrick Rose case is turning into an SVU episode

— Iesha ✨ (@ieshaax3) October 12, 2016

"I'm not going to dismiss it now," U.S. District Court Judge Michael W. Fitzgerald said. "I'm not going to declare a mistrial when we have a jury in the box."
Rose's defense attorney Mark Baute mentioned Hernandez's death when asking for a mistrial Wednesday, apparently shocking the plaintiff.
Police in Whittier, the LA suburb where Hernandez was found dead in her home, echoed the LAPD's statement saying, "There are no signs of foul play, and the incident is being investigated as a suicide."