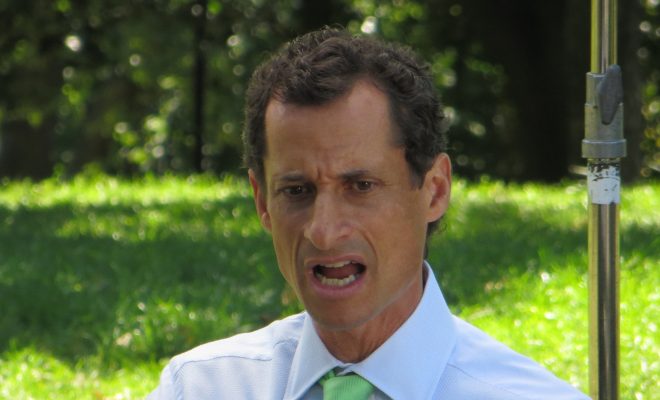 Image Courtesy of Barry Solow; License: (CC BY-SA 2.0)
Crime
Anthony Weiner Pleads Guilty in Sexting Case with 15-Year-Old Girl
By
|
Anthony Weiner, the disgraced former congressman from New York, pleaded guilty to transferring obscene materials to a minor in a federal court in Manhattan on Friday. The expected plea agreement capped an FBI investigation into Weiner's relationship with a 15-year-old girl. Weiner, 52, could face a maximum sentence of 10 years in prison. The judge said he will be required to register as a sex offender. Weiner also agreed to not appeal any prison sentence between 21 and 27 months.
In court on Friday, Weiner issued the following statement:
Beginning with my service in Congress and continuing into the first half of last year, I have compulsively sought attention from women who contacted me on social media, and I engaged with many of them in both sexual and non-sexual conversation. These destructive impulses brought great devastation to family and friends, and destroyed my life's dream of public service. And yet I remained in denial even as the world around me fell apart.
Last September, the girl anonymously shared her story with British tabloid The Daily Mail. She said Weiner had sent her sexually explicit text messages and photographs. She said Weiner was aware that she was a minor. That report came just months after Weiner was embroiled in another sexting scandal that led to a separation with his wife, Huma Abedin, a close aide to Hillary Clinton.
The FBI's investigation into Weiner's communications with the 15-year-old girl also affected the presidential campaign–Weiner's electronic devices contained emails pertinent to the FBI's investigation into Clinton's private email server. Recently fired FBI Director James Comey sent a controversial letter to Congress, in the days before the November 8 election, saying that the FBI, while investigating Weiner, found new emails that "appear to be pertinent to the [Clinton] investigation."
The FBI determined the newly-discovered emails didn't contain any new information, but Clinton recently blamed the eleventh-hour disclosure as central to her election defeat.
Weiner's political career crumbled in 2011, when his first sexting scandal went public. He had been a Democratic representative from New York since 1999. Despite his tarnished reputation, he ran for mayor of New York City in 2013. His bid was derailed by yet another sexting scandal.
According to an Associated Press report, Weiner was crying in court as he apologized to the girl, saying, "I have a sickness, but I do not have an excuse."