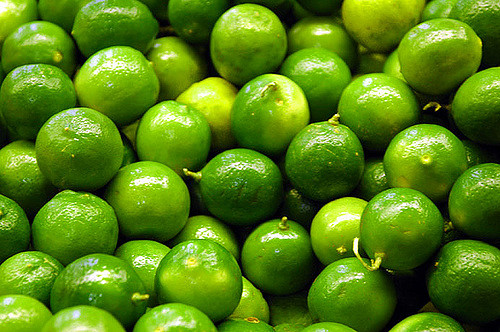 "Limes" Courtesy of Steve Hopson : License (CC BY 2.0)
Cannabis in America
Border Patrol Seizes Nearly 4,000 Pounds of Weed Disguised as Limes
By
|
U.S. Customs and Border Patrol agents on the Texas-Mexico border seized nearly 4,000 pounds of marijuana disguised within a commercial shipment of key limes. Yes, limes.
Border officers in Texas find nearly 2 tons of weed camouflaged as limes https://t.co/EPxhrjJNBH pic.twitter.com/FlYxZYnNmU

— CNN (@CNN) February 8, 2017

According to a CBP press release, the drugs were discovered on January 30 at the Pharr International Bridge cargo facility inside of a 2001 Freightliner tractor trailer. With the help of a non-intrusive imagining system and canine team, CBP officers located 34,764 lime-shaped bundles weighing a total of 3,947 pounds.
"This is an outstanding interception of narcotics," Port Director Efrain Solis Jr. said in a statement. "Our CBP officers continue to excel in their knowledge of smuggling techniques which allows them to intercept these kinds of attempts to introduce narcotics into our country."
The drugs are valued at approximately $789,467.
But even with the help of imagining equipment and drug sniffing dogs, it should have been pretty obvious to the agents that these lumpy green sacks weren't limes.
Smugglers tried to fool Border Patrol agents with weed disguised as limes: https://t.co/TpZXJlki11 pic.twitter.com/56BzrxCjao

— VICE (@VICE) February 8, 2017
Apparently, this isn't the first time smugglers have used fake food to hide narcotics. Last year agents confiscated 2,493 pounds of marijuana stuffed inside of pseudo-carrots entering from Mexico at the same border crossing.
So if you happen to be a drug smuggler living in Mexico with a penchant for stuffing marijuana inside fake fruits and veggies, you should seriously try a different tactic…or maybe learn what a lime actually looks like.