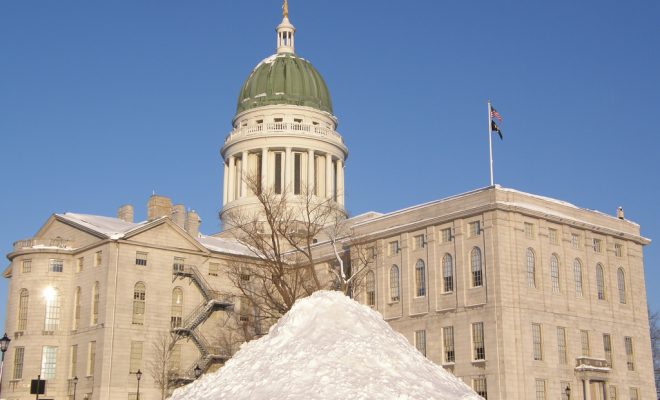 "Maine's State House" Courtesy of Jim Bowen; License: (CC BY 2.0)
Cannabis in America
Recount Begins for Maine's Recreational Marijuana Ballot Measure
By
|
Officials in Maine on Monday morning began a recount of ballots from Election Day. Because the state's recreational marijuana legalization measure, Question 1, passed by a narrow margin (about 4,000 votes), officials wanted to confirm the results of a measure that would have wide-ranging effects in the Pine Tree State. If the results are confirmed, Maine would join three other states–California, Massachusetts, and Nevada–that passed recreational legalization measures on November 8.
The Maine secretary of state's office has signaled that the recount could take up to a month. The recount–which is taking place in the state capital of Augusta–could cost at least $500,000. State police will be transferring ballots, locked away in password-protected boxes, from 503 towns across the state.
Question 1 would allow Maine residents who are at least 21 years old to possess up to 2.5 ounces of marijuana. Home cultivation would be limited to up to six plants. If the measure passes, state officials would have nine months to construct a regulatory framework.
Governor Paul LePage, in a video released before the vote, said marijuana "can be deadly." Likening it to heroin, he said, "we do not need to legalize a drug that could lead to more deaths." LePage, a staunch opponent of the measure, added: "Before you vote, please educate yourself on this dangerous issue."
The measure was passed by a slim margin, with 381,692 voters supporting Question 1, and 377,619 opposing it. LePage, a Republican, supports the recount, and has said that he would implore President-elect Donald Trump to enforce the federal ban on marijuana. If Trump did respect states' wishes, however, LePage said he would respect that decision as well.
Election Day was a sizable victory for marijuana advocates, as eight states (nine if the Maine results are confirmed) passed marijuana measures in some form, though marijuana remains illegal at the federal level. Maine residents will have to wait at least a few more weeks to see if their state joins the growing list of states that have legalized the drug since 2012. Maine legalized medical marijuana in 2009.