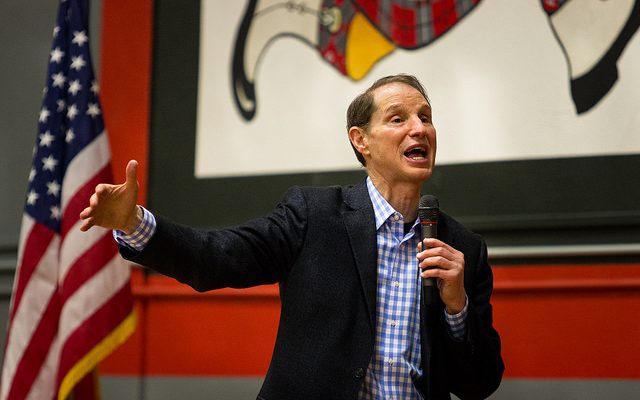 Image Courtesy of Joe Frazier Photo : License (CC BY 2.0)
Cannabis in America
Oregon Lawmakers Introduce Ambitious Marijuana Reform Bills
By
|
Two Oregon lawmakers introduced an ambitious trio of bills in the U.S. Senate and House Thursday that would drastically revolutionize marijuana reform and help legitimize the cannabis industry. Sen. Ron Wyden and Rep. Earl Blumenauer, both Democrats, are calling the project the "Path to Marijuana Reform," and it almost seems too good to be true.
The marijuana reform plan is comprised of the following three bills:
Small Business Tax Equity Act
This bipartisan piece of legislation would "allow businesses operating in compliance with state law to claim deductions and credits associated with the sale of marijuana like any other legal business."
Currently, under Internal Revenue Code section 280E, individuals and businesses cannot claim deductions and tax credits on Schedule I or Schedule II substances. Therefore, many of these legitimate business are forced to pay exorbitant taxes.
Responsibly Addressing the Marijuana Policy Gap Act
This multi-faceted bill aims to help reduce the gap between Federal and State law by removing federal criminal penalties for marijuana sale and possession in states that have legalized pot. Notably, this would include an expungement process for certain marijuana violations, potentially wiping away thousands of pot-related convictions.
It would also reduce advertising restrictions, provide banking services and bankruptcy protection, make sure veterans have access to state-legal medical marijuana, and protect Native American tribes from punishment under federal marijuana laws.
Marijuana Revenue and Regulation Act
Lastly, this piece of legislation would work to de-schedule, tax, and regulate marijuana similar to alcohol and tobacco. This would involve removing marijuana's Schedule I substance designation and imposing a federal excise tax on marijuana products.
"'This could be a no-brainer for the federal government to get some of the revenue flowing' to states with legal recreational pot," Blumenauer said, according to the Huffington Post.
Wyden also commented on the plan in a statement that read:
The federal government must respect the decision Oregonians made at the polls and allow law-abiding marijuana businesses to go to the bank just like any other legal business. This three-step approach will spur job growth and boost our economy all while ensuring the industry is being held to a fair standard.
This detailed marijuana reform plan doesn't come as much of a surprise. Marijuana advocates have speculated for months over whether or not Attorney General Jeff Sessions will crackdown on state marijuana programs. Wyden and Blumenauer have introduced similar legislation before to no avail, but they think this time could be different because of their plan's "more comprehensive" approach and revenue focus.