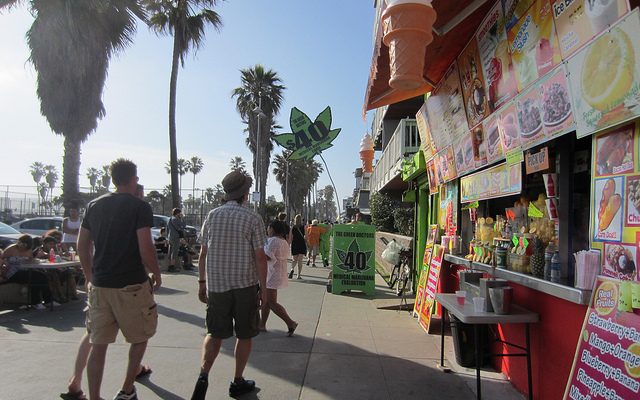 "medical marijuana and ice cream" Courtesy of stereogab: License (CC BY-SA 2.0)
Cannabis in America
Americans Buy More Marijuana than Ice Cream
By
|
Believe it or not, but Americans will probably spend more money on weed this year than ice cream. A new report from Marijuana Biz Daily expects retail sales to increase by more than 30 percent, hitting somewhere from $5 billion to $6 billion in 2017. The estimated total demand, however, for marijuana in the United States, including the black market, is around $45 billion to $50 billion.
Exclusive: Retail sales of medical and recreational cannabis in the United States are expected to hit $5 billion-$6 billion in 2017. pic.twitter.com/jCjIdhuTZW

— Marijuana Biz Daily (@MJBizDaily) May 17, 2017
Just for comparison, total ice cream sales will likely only garner $5.1 billion, according to the trade publication's 2017 Marijuana Business Factbook. For reference, sales for movie tickets will clock in at $11.1 billion and snacks like Doritos, Cheetos and Funyuns at $4.9 billion.
Notably, recreational sales may pass medical sales this year for the first time–recreational marijuana is poised to make $2.6 billion to $2.9 billion in sales this year versus $2.5 billion to $3.2 billion on the medical side.
The policy site attributed much of the recreational revenue bump to Nevada's early launch of adult-use sales in July, and continued growth in existing markets in  Colorado, Oregon, and Washington. In the next three to five years, this number is estimated to grow substantially thanks to new adult use markets in California, Maine, and Massachusetts.
Legalization of medical marijuana in states like Ohio–where it will  be up and running by September 2018–is also expected to boost future sales.
In 2016, the legal marijuana industry brought in between $4 billion and $4.5 billion, outselling Viagra and Cialis, paid music streaming services, tequila, and Girl Scout cookies.
The report estimates that for every $1 consumers spend at dispensaries, another $3 in economic benefits are created in cities, states, and nationwide. Marijuana tax revenue, for instance, contributes hundreds of millions of dollars to state and local municipalities, which is used to help balance budgets and fund local projects and government programs.
According to these projections, by 2021, annual retail marijuana sales in the United States could top $17 billion–a 300 percent increase from 2016. In other words, it appears that this so called "green rush" shows no signs of slowing down.