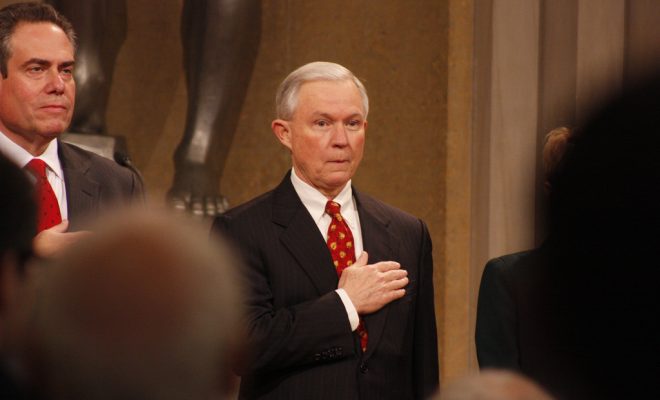 Image Courtesy of Ryan J. Reilly; License: (CC BY 2.0)
Cannabis in America
Jeff Sessions Signals Marijuana Enforcement Will Remain the Same
By
|
Marijuana advocates have been worried for months about the recently confirmed Attorney General Jeff Sessions. He once said "good people don't smoke marijuana," and he has joked that he thought the Ku Klux Klan "were OK until I found out they smoked pot." But last week, Sessions spoke with Sacramento County Sheriff Scott Jones, and may have finally hinted at how he might enforce the federal marijuana ban as attorney general.
"Regarding the prioritization of federal resources to combat marijuana, he didn't see the federal government getting involved in marijuana use or low-level state, what are traditionally state and local crimes, but, I don't think he ruled out the possibility of the federal government getting involved in larger-scale operations," Jones said.
If what Jones said is to be taken as Sessions' stance on enforcing marijuana laws at the state-level, then not much would change. President Barack Obama routinely cracked down on medical marijuana dispensaries and growers, even ones in states that legalized the drug. During Obama's first three years in office, the Justice Department conducted over 100 raids.
Despite a history of anti-marijuana comments, Sessions has stayed consistent when asked about how he will enforce the federal marijuana ban as attorney general. In his hearing last month, Sen. Patrick Leahy (D-VT) asked Sessions how he would handle marijuana enforcement. "I won't commit to never enforcing federal law," he responded, "but absolutely it's a problem of resources for the federal government."
As more and more states legalize pot in some form–28 states and D.C. have already done so–enforcing the federal ban will become increasingly difficult. Nearly one quarter of Americans now live in a state with some form of legal marijuana, either medical or recreational. And according to a recent Gallup poll, 60 percent of Americans favor marijuana legalization, the highest rate in 47 years.
The attorney general is meant to enforce the law based on the law, not his or her own opinions. And in his hearing, Sessions swore under oath to ditch his personal viewpoints when enforcing U.S. law. "It's not so much the attorney general's job to decide what laws to enforce. We should do our jobs and enforce laws effectively as we're able," Sessions said during his hearing. "The U.S. Congress made the possession of marijuana in every state — and the distribution — an illegal act. If that's something that's not desired any longer, Congress should pass a law to change the rule."