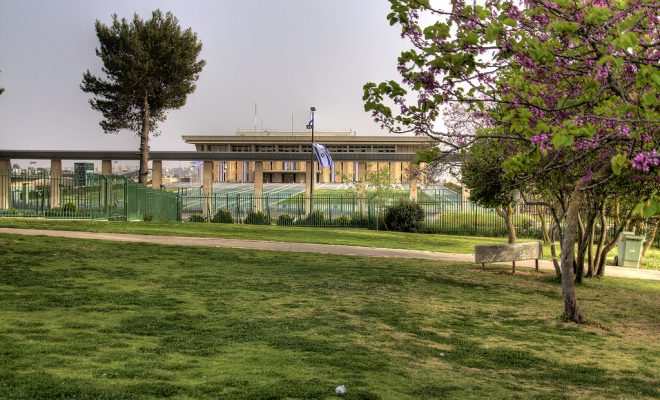 "The Knesset" Courtesy of israeltourism; License: (CC BY 2.0)
Cannabis in America
Israel Announces it Will Decriminalize Recreational Marijuana Use
By
|
Israel's Cabinet announced on Sunday that the country, already one of the world's leaders in medical marijuana innovation, is decriminalizing recreational marijuana use. Despite its innovations in medical marijuana research, Israel previously viewed recreational use as a criminal offense; although enforcement was lenient. But now, Israel is officially joining a handful of other countries–including the Netherlands, Mexico, Czech Republic, Costa Rica, and Portugal–in officially treating marijuana use as a public health issue, not a criminal offense.
The Cabinet's announcement drew bi-partisan applause. "Whether one supports use of cannabis or is opposed, it is wrong to judge cannabis users per criminal law and its derivatives," said right-wing Justice Minister Ayelet Shaked, adding that Israel "cannot turn a blind eye in light of changes worldwide regarding cannabis consumption and effect."
And Tamar Zandberg, member of the left-wing Meretz Party, and chairwoman of the Committee on Drug and Alcohol Abuse, said Sunday's announcement is "a message that millions of Israelis who consume cannabis are not criminals."
Under the new decriminalization model, first time users, if caught smoking pot in public, will be slapped with a 1,000 shekel ($271) fine, but no criminal charges would be brought. A subsequent offense would double the fine. And a third could require rehabilitation, education, and a suspended driver's license. The money collected by fining public marijuana users would help fund rehabilitation clinics and educational programs. A fourth offense could result in criminal charges.
The medical marijuana industry in Israel, while still relatively nascent, is backed by the government and is a growing source of innovation in the private sector. There are 25,000 registered medical marijuana patients in Israel, a number that is expected to grow exponentially over the next few years. Following Sunday's announcement, the government will set up a special team tasked with regulating and carrying out the decriminalization policy. The new policy is based on the findings of a committee led the the Public Security Ministry Director General Rotem Peleg.
The Public Security Minister Gilad Erdan said Sunday's announcement "is an important step on the way to implementing the new policy that will put emphasis on explaining and treating" marijuana use, "rather than on criminal enforcement."