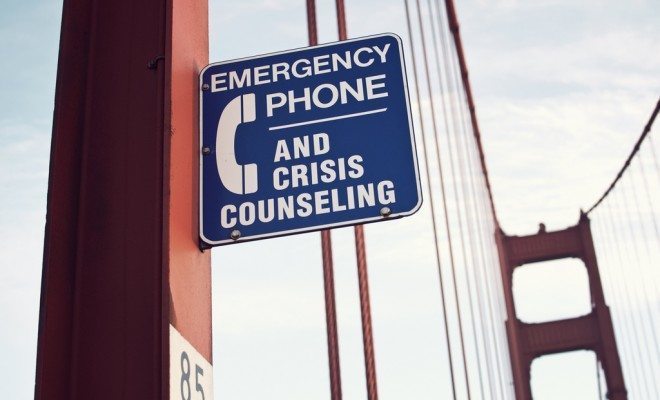 News
Suicide Prevention: New Policies Hope to Slow Trends
By
|
Suicide is one of the ten most common causes of death in the United States. In fact, suicide is such a common  incident that locations to commit the act actually begin to trend. The New York Times reports that, "an estimated 1,600 people have committed suicide by jumping off the Golden Gate Bridge." Are the many deaths a coincidence, or does that bridge serve as some sort of morbid invitation that pulls people to their deaths below? In a less publicized issue, a man recently shot himself at Arlington Cemetery–a well known final resting place for veterans. We all know that suicide is caused by untreated depression and mental illness, yet it is unclear why people choose similar or symbolic places to end their lives. Most importantly, how can this epidemic be stopped?
How Local Government Can Help  
Despite San Francisco's typically moderate temperatures and sunny skies, the Golden Gate Bridge can be a dark and ominous site. It is the number one spot for suicides in the United States, with 46 suicides reported last year alone.
Recently, the directors of the Golden Gate Bridge Highway and Transportation District voted to erect a "suicide barrier," in hopes of minimizing attempts and deaths. The "suicide barrier," would be a 20 foot wide net, made from stainless steel, and located 20 feet below the bridge. The Empire State Building, the Eiffel Tower, and the Sydney Harbour Bridge all have barriers, so placing one in the top location for suicide in the U.S. is a comprehensible idea. In 2012, President Barack Obama signed a bill which allowed funds to be designated to the project. According to the Times-Herald, "under the funding plan Caltrans would contribute $22 million, the Metropolitan Transportation Commission $27 million and the state $7 million."
There are several controversies that surround this innovation. Many people who are friends and family members of Golden Gate Bridge suicide victims support this effort, and would like to see the city take action to prevent more individuals from jumping to their deaths. Yet others feel that funds toward this development would be a waste. Their argument is that a person who has a suicide plan will commit the act one way or another, so why waste government funds on the safety net? But according to helpguide.org, "most suicidal people are deeply conflicted about ending their own lives." Therefore if the impulse is caught, the victim may decide to abandon their plan.
Many popular places to commit suicide have taken initiative to place Suicide Hotline signs up, yet it has been proven that physical barriers are the most effective intervention technique, because suicide is impulsive in nature.
Suicide is a tough issue that affects roughly 38,364 people a year. A question that prevails is whether or not the government should interfere. In the case of the Golden Gate Bridge, the government stepped in and chose to use funds for preventative action toward the suicide epidemic in San Francisco. Little can be done to prevent a person from taking their own life, other than funding mental health facilities and programs, yet victims families, and mental health advocates remain hopeful.
How the Federal Government Can Help  
In a more recent case, the media chose to tread on the topic lightly to prevent a domino-effect from occurring. On Friday, June 20, a man was found in Arlington Cemetery, near the Pentagon Memorial–a memorial to honor the victims of the September 11 terrorist attacks. His method of suicide was a gunshot to the head. In an effort to discourage a trend from developing, newspapers have steered clear of heavily covering the June 20 occurrence; little has been reported on the motives for the suicide or the victim's personal information other than he was a 92-year-old retired Air Force colonel.
Veteran suicides are on the rise–an average of 22 veterans commit suicide each day.
In order to address this issue, legislation requiring soldiers be examined before discharge was introduced in April of this year. According to the National Journal, this examination would include testing for, "nightmares, flashbacks, changes in personality, sleeping disorders, and suicidal thoughts." Another provision to the bill allows for soldiers to be eligible for health care up to fifteen years after their service in the military has ended.
It's a sad truth that suicide is becoming increasingly popular among Americans. Suicide is usually a result of depression and mental illness, yet there are steps that can be taken to increase the services offered to individuals suffering. Campaigns to increase awareness can be organized, services for individuals suffering can be improved and made more easily available to lower income families, and the availability of lethal medications and weapons can be more heavily monitored and withheld from precarious individuals. There's still a lot of work to be done.
—
Madeleine Stern (@M3estern) is a student at George Mason University majoring in Journalism and minoring in Theater. Her writing on solitary confinement inspired her to pursue a graduate degree in clinical counseling after graduation. Madeleine is an avid runner, dedicated animal lover, and a children's ballet instructor. Contact Madeleine at staff@LawStreetMedia.com.
Featured image courtesy of [rafael-castillo via Flickr]