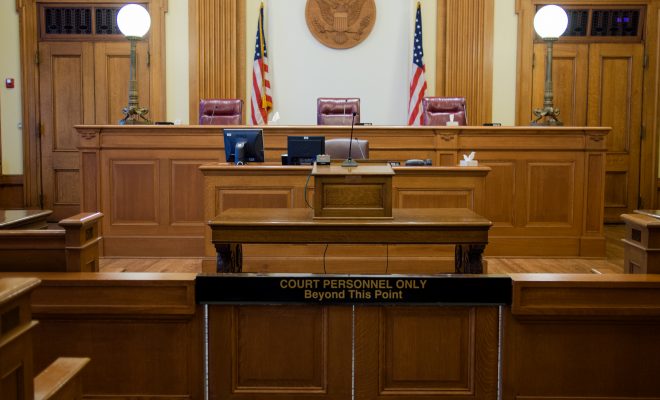 "Courtroom" courtesy of [Karen Neoh via Flickr]
News
Tulsa Officer Charged With Manslaughter in Terence Crutcher's Death
By
|
Betty Shelby, the police officer who shot Terence Crutcher on a highway in Tulsa, Oklahoma last week, was formally charged with manslaughter. Tulsa County District Attorney Steve Kunzweiler announced on Thursday that he had charged officer Shelby with first-degree manslaughter, which would amount to a minimum of four years in prison if convicted.
In a brief statement about the charges, Kunzweiler said, "The tragic circumstances surrounding the death of Mr. Crutcher are on the hearts and minds of many people in this community." Shelby was booked at the local county jail early Friday morning before being released on a $50,000 bond. Crutcher's family members said that they approved of the charges and hope that Shelby's prosecution will lead to a conviction.
Crutcher's twin sister, Tiffany, said after the announcement, "This is a small victory. The chain breaks here. We're going to break the chains of police brutality."
Tulsa Police Officer Betty Shelby will face first-degree manslaughter charges in death of Terence Crutcher: https://t.co/qgCni2r96U pic.twitter.com/cKXAxAqiw6

— Complex (@ComplexMag) September 22, 2016
Crutcher's car broke down on the interstate last Friday and a woman called 911 reporting that a man was running away from the vehicle as if it was about to blow up. Betty Shelby, who was responding to another 911 call about domestic abuse, came across Crutcher and his car. She got out and started asking Crutcher what was wrong, but he reportedly ignored her questions and kept mumbling to himself. As the interaction unfolded, backup arrived at the scene and Crutcher was later shot and killed.
The court documents claim that Shelby shot Crutcher "unlawfully and unnecessarily." The filing argues that she became emotionally involved and overreacted to the situation. Shelby's attorney Scott Wood said that Crutcher was acting erratically, which led Shelby, who Wood said is a drug recognition expert, to believe he was on drugs. She claims to have feared for her life before she fired the shot, and said that Crutcher kept patting his pockets and she couldn't tell if he had a gun. Crutcher was unarmed and there was no weapon in the car.
A video of the incident shows Crutcher with his hands raised in the air shortly before he was shot. Shelby apparently ordered him to go back to his car and another officer tasered him as he approached the driver-side door. Shelby then shot Crutcher shortly after he fell to the ground.
Police say that Crutcher was reaching into the window before he was shot, but the attorney for the Crutcher family, Benjamin Crump, later said, "The window was up, so how can he be reaching into the car if the window is up and there's blood on the glass?"