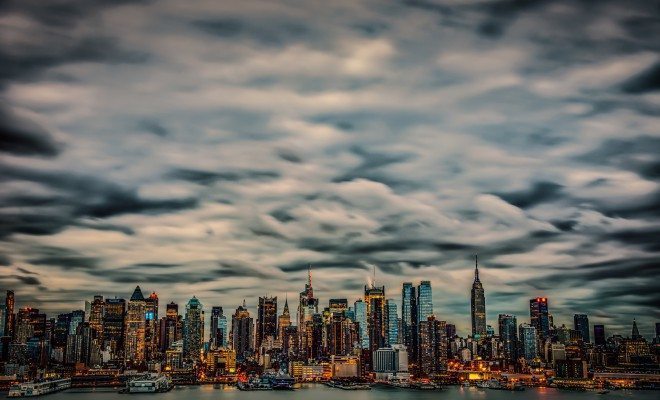 Image courtesy of [John Chandler via Flickr]
News
Hurricane Sandy Recovery Drags on For Devastated Communities
By
|
It's been two-and-a-half years since Hurricane Sandy last dominated headlines, but recently the storm has been pulled back into the media. From the 60 Minutes special "The Storm After the Storm," to this funny yet poignant spot on "The Daily Show with Jon Stewart," and an article in last week's edition of The New York Times have all described problems along the road to recovery.
Some residents of the New York/New Jersey area who received the brunt of the hurricane's wrath are still waiting to receive full compensation for their damaged homes and businesses. Daily Show correspondent Jordan Klepper created a satirical news package that brought to light the struggles of one Staten Island neighborhood. The spot revealed that victims of Hurricane Sandy are still waiting to receive money to rebuild their destroyed houses. One woman explained that she was frustrated because organizations such as "Build It Back" lose paperwork and do not do enough to help affected communities.
The coverage on "60 Minutes" attributed the delayed or missing compensation to intentionally doctored paperwork, claiming there is evidence that insurance and engineering companies often falsified reports. In one example, a company claimed that the damage caused by the storm was long-term damage that existed before the hurricane rolled into town, even though paperwork from a previous visit to the home determined the damage was due to the storm. The resident maintained that the damage was indeed caused by the events of Hurricane Sandy, producing evidence of the paperwork from the original visit.
How is FEMA reacting to all this hoopla? Well, the organization will be reviewing every flood insurance claim filed by homeowners affected by Hurricane Sandy. FEMA's message was announced by Senators Charles Schumer and Kirsten Gillibrand of New York, along with Senators Robert Menendez and Cory Booker, Tweeter Extraordinaire, of New Jersey. (Seriously though, check out Senator Booker's on-point Twitter account here).
Along with reviewing every flood insurance claim, FEMA will also be launching its own internal inquiry. While all of these reviews and inquiries sound great in theory, there is still not a concrete plan of attack as to when (or how) Sandy victims will be compensated. Steve Mostyn, the lead lawyer representing New York homeowners, remained cautiously optimistic:
We are happy that FEMA now agrees to reopen all Sandy claims. However, that process has not been worked out and the details of that process will determine if it is real or just window dressing.
Hurricane Sandy caused 117 deaths and more than $60 billion worth of damage, second only to Hurricane Katrina in 2005. If America does not improve its process for addressing national disasters, what will happen to homeowners seeking compensation in the future? How many years will they have to wait to rebuild? Is the United States ill-equipped to handle the aftermath of the next deadly tornado in Nebraska, or future large-scale fire in California? Hurricane Sandy might have been an East Coast problem, but fair–and timely–post-storm compensation is a national issue.