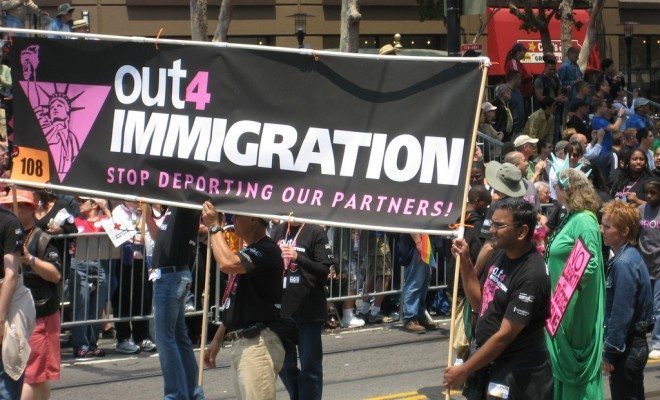 Image courtesy of [lewisha1990 via Flickr]
Law
LGBTQ Immigration: Not Just About Marriage
By
|
Much ado has been made about the potential impacts of gay marriage on immigrants, and the potential impacts of comprehensive immigration reform on LGBTQ people. But what does all that mean? How do laws aimed at immigrants and laws aimed at LGBTQ people impact those who are both immigrants and LGBTQ? Read on to learn about the different difficulties of LGBTQ immigration, what progress is being made, and what problems still exist.
---
"Don't Separate my Family": Marriage and Immigration
When people hear about immigration and gay rights together in mainstream media sources, chances are that the conversation is about the impacts of gay marriage on immigration policy and individual couples in which one partner is an immigrant and the other is a citizen.
In the build up to the Supreme Court's 2013 decision in United States v. Windsor, which provided full federal recognition of legally married same-sex couples by striking down a critical component of the Defense of Marriage Act (DOMA), many couples in which one partner was not a citizen were featured in efforts of advocacy for gay marriage. A perfect example is the couple featured in the YouTube clip above. In the aftermath of federal recognition of same-sex marriage, a good deal of media coverage focused on long-term lesbian and gay relationships in which one of the partners was granted legal immigration status through marriage to a citizen partner. This New York Daily News article, for example, frames the triumph of gay marriage advocates in New York through the lens of immigration, discussing same-sex marriage as a win for a binational couple's ability to obtain a green card for one of the partners.
Legal recognition for same-sex marriage has somewhat been a boon for proponents of more accessible immigration. LGBTQ couples no longer need to live in fear that they will not be able to live together in the U.S. because their marriage isn't recognized: after the DOMA decision, same-sex couples have the right–as straight couples do–to have an immigrant partner obtain a green card through their marriage to a citizen spouse. Prior to the DOMA decision, no federal rights of marriage, including federal taxes and federal benefits, were afforded to same-sex couples, even if they were married in a state where it was legal. There was a lack of ability to obtain a green card for an immigrant partner in a binational couple; these rights are now assured. Transgender immigrants in a binational marriage, rest assured–whether you're in a straight or  gay/lesbian relationship, the DOMA decision ensures that you or your partner can qualify for a green card.
New Concerns After the DOMA Decision
After the DOMA decision, however, concerns remain for LGBTQ immigrant couples. For example, investigative reporter Seth Freed Wessler writes for Colorlines.com that,
The parts of the marriage-based visa process that include investigation by federal immigration officers into the validity of a marriage… [can pose a problem for] LGBT couples who may not be out to their families, communities, neighbors or bosses, the prospect of a United States Citizenship and Immigration Services (USCIS) officer showing up at their apartment building or calling their mother to ask about the relationship poses a pretty serious risk.
This is indeed something to be concerned about, and it may well bar access to green cards for many LGBTQ immigrants. Yet it is precisely this articulation of the U.S. as a liberal bastion and safe-haven for LGBTQ people–juxtaposed against "homophobic" countries–that causes many LGBTQ people to critique the entire framing of same-sex marriage as a vehicle for positive immigration policy.
Many LGBTQ people argue that fighting for marriage takes away attention, energy, and resources (millions and millions of dollars worth) from addressing the underlying issues of structural racism, state oppression and heteronormativity that shape anti-immigrant and anti-LGBTQ attitudes to begin with. Queercents writer Yasmin argues that marriage "being presented as THE immigration cause for LGBT people" detracts crucial attention away from comprehensive immigration reform, which she and many others assert should be the focal point of immigration efforts. Responding to American Apparel's same-sex marriage-inspired "Legalize Gay" shirts Yasmin writes that:
Do people wearing this t-shirt have a clue what it really means to be illegal? To be, for instance, an 'illegal alien' who gets swept up in an Immigration and Customs Enforcement raid and be deported soon thereafter? To not be able to travel freely because they lack the proper documentation? To pay for their school tuition and rent in cash because they lack social security numbers? [And i]t's not just the undocumented whose lives are effectively erased by this t-shirt, but the millions who are being funneled into the prison industrial complex in order to increase its profits.
Even if an undocumented immigrant who is LGBTQ is familiar with the fears and oppressions discussed here, they may not have marriage available to them–or may not desire marriage–if they want a green card.
---
Executive Action and Legal Challenges
President Obama's executive action in November 2014 that attempted to grant relief from deportation for millions of undocumented immigrants is being legally challenged by 26 states. These legal challenges have left millions of people in limbo, without knowing their status or rights, because the parents of U.S. citizens and families who were protected from deportation under his executive orders now must wait to learn what courts will decide about the legal challenges.
The impacts of Obama's exercise of executive power (and, then, the impacts of the legal challenges to this power) for LGBTQ people have been much debated in LGBTQ communities. Staff correspondents Rachel Roubein and Lauren Fox argue in the National Journal that Obama's actions on immigration were a tremendous help to LGBTQ people. They cite, among other things, the life-saving potential of prosecutorial discretion in immigration cases, which can prevent many LGBTQ people from being deported.
Other critics are less optimistic about the potential of Obama's executive action to serve as the immigration overhaul that many desire, even if the cases against it are unsuccessful. Colorlines.com reporter Julianne Hung reminds her readers that:
The terms [of the action] are stringent: It will apply only to those who have been in the U.S. for five years or more; those who came to the country as young teens; and parents of U.S. citizen children and green-card holders. People with various criminal violations on their records will be barred from relief.
While these familial provisions were portrayed as being meant to keep families together, they do not grant access to many of the 267,000 undocumented LGBTQ adults who will not qualify for relief under Obama's action because they lack these kinds of familial connections. These stringent terms may be particularly prohibitive for many of the 20,000-50,000 undocumented transgender immigrants in the country, for whom accessing potential relief will likely be particularly difficult due to virulent institutional transphobia that trans immigrants face.
---
"Mass Incarceration of Immigrants"
Currently, there's a "mass incarceration of immigrants" in which the state and prison corporations generate many billions of dollars of profit from privately run and revenue-generating facilities that lock up people who are immigrants. In light of that, many LGBTQ immigrants are concerned about prisons generally, and the ways transgender people are targeted for especially horrific treatment in prisons and immigration detention centers. When the Department of Homeland Security came out with new immigration detention policies in 2014 that were aimed at preventing sexual abuse in immigration detention facilities, many lauded the changes as a victory. LGBTQ immigrants in these centers often experience much higher rates of abuse than their non-LGBTQ peers, so the changes were often welcomed by LGBTQ immigration advocates.
However, transgender immigrants did not receive adequate protections under the new guidelines. National Center for Transgender Equality director of policy Harper Jean Tobin referred to the new policies in the following way:
A tremendous missed opportunity which adds urgency to ending our multibillion-dollar mass incarceration of immigrants… The lack of adequate protections for transgender immigrants in particular makes it clear that these vulnerable individuals are not safe in detention facilities and should no longer be detained.
Many transgender asylum seekers are detained in the wrong facilities, particularly women being placed in all-male facilities, making those women targets of extreme sexual violence in immigration detention facilities.
This kind of abuse is experienced at higher rates by transgender immigrants, but LGB immigrants also are sexually abused at 15 percent higher rates than their non-LGB peers in detention facilities.
Organizations like the National Center for Transgender Equality, the National Immigrant Justice Center, and the Sylvia Rivera Project's Immigrant Rights Project work at the intersections between immigration and LGBTQ justice. They operate in ways that attempt to make detention safer for LGBTQ immigrants specifically while also working to make detention and deportation non-existent for all immigrants.
---
Conclusion
For immigrants who are LGBTQ, obstacles to obtaining a green card and safety from deportation can be much greater than for immigrants who are not LGBTQ, though the obstacles and the stakes are quite high for all immigrants. Same-sex marriage may chip away at these obstacles for some LGBTQ immigrants in binational, married relationships, but more overarching reform of the system of detention and deportation of immigrants may be a more holistic way forward for LGBTQ immigrants.
---
Resources
Primary
Oyez: United States v. Windsor
Additional
National Immigrant Justice Center: Stop Abuse of Detained LGBT Immigrants
Sylvia Rivera Law Project: Immigrant Rights Project
National Center for Transgender Equality: Our Moment For Reform
ABC News: DOMA Ruling Could Mean Green Cards for Gay Immigrants
Colorlines: LGBT Immigrants Could Face Hard Road Applying for Green Cards
Washington Post: Gay Marriage Fight Will Cost Tens of Millions
MakeZine: Is Gay Marriage Racist?
Queercents: Legalize Gay: Or, So You Think You're Illegal?
Queercents: Uniting American Families Act: Fact, Fiction, Money, and Emotions
Immigration Policy Center: A Guide to the Immigration Accountability Executive Action
AlJazeera: 26 States Sue Obama Over Immigration Plan
National Journal: In Immigration Action, the LGBT Community Once Again Feels Left Behind
Feministing: Is Mass Incarceration and Detention of Women Becoming the New Normal?
Center for American Progress: Dignity Denied: LGBT Immigrants in U.S. Immigration Detention