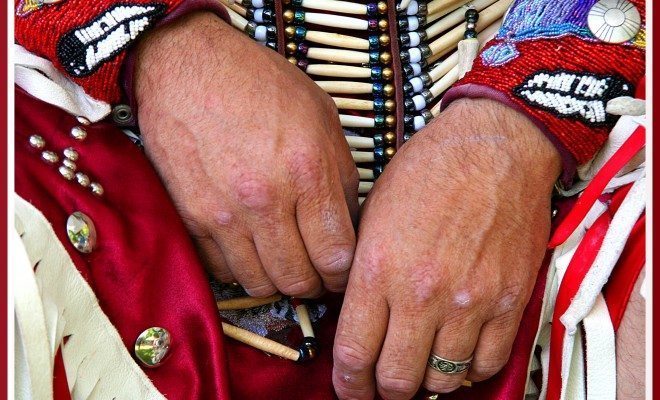 Image courtesy of [Kathleen Franklin via Flickr]
Entertainment & Culture
Stolen Identities: The Repatriation of Indigenous Artifacts
By
|
Earlier this year a legal battle that spanned twenty years concluded in a major victory for Native American tribes in Washington. "Kennewick Man"–the remains of a 9,000 year old skeleton discovered in 1996–is considered one of the most important archaeological finds in North American history. The skeleton was found on federal land but multiple Native American tribes argued that the skeleton, which was officially determined to be Native American in 2015, belonged on tribal land. Under the Native American Graves Protection and Repatriation Act (NAGPRA), Native American tribes are allowed to determine what to do with Native remains–either burying them in a traditional ceremony or displaying them in museum exhibits. Thanks to NAGPRA, many Native American artifacts have been brought back to tribal lands but after centuries of removal–both by individuals and archaeological missions–the work of repatriation has only just begun. Certain museums, most notably the Smithsonian Institution, have striven to catalog and repatriate collections but museums across the United States, and the world, are still in possession of contested artifacts. Take a look at the current state of repatriation.
---
What is NAGPRA?
NAGPRA, enacted in 1990 after being introduced by noted conservationist Morris Udall, requires organizations that receive federal funding to return Native American cultural artifacts to lineal descendants and affiliated tribes. Federal grant money is dedicated to repatriating artifacts, which can be human remains, sacred objects, or personal possessions. Some sacred objects are still used in modern-day ceremonies so they can be especially important for preserving the heritage of the tribes. Museums are required to keep an up-to-date inventory of all artifacts so that tribes can track them down and initiate the repatriation process. Furthermore, NAGPRA requires that Native American and Native Hawaiian organizations are notified by archaeologists whenever they find or expect to find indigenous cultural items (or when such items are unexpectedly discovered on federal or tribal lands). NAGPRA is incredibly important in the context of disturbing burial grounds. Native American graves were frequently unmarked and there was no protection under state or federal law regarding their exhumation.
NAGPRA also criminalizes the trafficking of Native American remains (without right of possession/legal ownership). In 2003, the FBI returned a host of stolen Native American artifacts valued at over $400,000 on the black market to eight tribes. A well-known art gallery in Santa Fe, New Mexico had been selling the artifacts out of a back room by the gallery owner and a prominent art dealer. NAGPRA was augmented by the National Museum of the American Indian Act Amendments of 1996, which extends repatriation to include "unassociated" objects that are not tied to a particular tribe. The National Museum of the American Indian operates a six-step process for repatriation which has led to the repatriation of more than 2,000 objects to 100 different Native communities throughout North and South America.
---
Why Kennewick Man Matters
Multiple tribes, including the Umatilla, Colville, Yakima, Wanapum and Nez Perce tribes, have all claimed the remains of Kennewick Man as their own. The remains were found on Umatilla ancestral land, but that does not guarantee that the skeleton was actually of Umatilla descent as multiple tribes visited that land. The tribes have advocated for the skeleton's immediate reburial, claiming that holding him in a laboratory and museum environment is disrespectful to his memory. Scientists and archaeologists argue that they can learn a great deal from his remains, as his is one of the oldest and most complete skeletons ever discovered on the continent. The first scientists to study the skeleton argued that it lacked "Native American characteristics" which infuriated tribal advocates. Umatilla trustee and religious leader Armand Minthorn told Archaeology that 
If this individual is truly over 9,000 years old, that only substantiates our belief that he is Native American. From our oral histories, we know that our people have been part of this land since the beginning of time….We already know our history
The tribes' assertion that the skeleton was Native American was often considered to be suspect until a 2015 DNA study found that Kennewick Man's genome was more closely related to modern Native Americans than any other modern human demographic. The DNA testing was not specific enough to confirm a specific tribe but the groups that have claimed ownership over the skeleton agreed to band together for his burial.
Over the years, Kennewick Man became not only an important artifact but a symbol of the Native American battle for credibility in repatriation. Advocates hope the repatriation of Kennewick Man will hopefully set a precedent for future cases, both in the United States and abroad.
---
Repatriation Failures at the British Museum
Native Americans are not the only indigenous groups who seek to reclaim their history through repatriation. The British Museum, which houses some of the most incredible collections of artifacts in the world, has frequently been criticized for its failure to return objects to the governments of  former British colonies.
Artifacts from India, Africa, and Australia have become contested since the end of colonialism, as indigenous groups argue that they deserve to display their heritage in their own museums. India has asked for the return of the Kohinoor Diamond, Greece has requested the Elgin Marbles. and the statue Hoa Hakananai'a  still stands in the British Museum rather than its ancestral home of Rapa Nui (Easter Island). The British Museum has launched some repatriation efforts, but is still in possession of thousands upon thousands of contested artifacts. Earlier this year, the British Museum launched an exhibition entitled Indigenous Australia: Enduring Civilisation which stirred controversy over the museum's ownership of over 6,000 artifacts that were acquired from Indigenous Australian populations during the colonial era. That community is divided in their reaction to the exhibition: some claim that the British preserved objects that otherwise would have been lost or destroyed while others argue that the artifacts, which were often stolen during violent periods of repression, should be sent back to Australia. There are plans for the exhibition to travel to Canberra in November, but the artifacts will be sent under the 2013 Protection of Cultural Objects on Loan Act, which blocks the repatriation process while the artifacts are on Australian soil. Shane Mortimer, an elder of the Ngambri people, stated that
If the Ngambri people went to England, killed 90 percent of the population and everything else that is indigenous to England and sent the crown jewels back to Ngambri Country as a prize exhibit … what would the remaining 10 percent of English people have to say about that? The exhibition should not proceed without the permission of the owners of all of the items.
---
Conclusion
The repatriation of artifacts and human remains is a battle that has been fought for decades yet is far from over. Certain archaeologists argue that artifacts need to be preserved in major museums in order to share history with future generations. The idea that a skeleton discovered on an archaeological dig might be buried once again (according to tribal custom) is seen as irresponsible and distasteful. However, advocates for the Native population believe that repatriating artifacts will do much more to preserve culture than holding them in a museum and that the burial of human remains is a sign of respect.
There is no doubt that museums are invaluable to preserving our history but we cannot ignore the fact that a majority of their collections were taken without permission and artifacts are essentially being held hostage under the guise of preservation. There are museums that have engaged in extensive repatriation–the National Museum of the American Indian, for example, has fewer than 300 human remains in its collection, most of which have yet to be claimed by South American tribes–so the process is clearly feasible. Repatriation is a reaction to theft, not preservation, and indigenous tribes deserve support as they try to reclaim their history.
---
Resources
Primary
National Museum of the American Indian:  Act Amendments of 1996
National Museum of the American Indian: Repatriation
Additional
NewHistorian: Kennewick Man Will Return Home to Native American Tribes
Annenberg Classroom: Who should own Native American artifacts?
National Geographic: When Is It Okay to Dig Up the Dead?
Smithsonian Magazine: Over 9,000 Years Later, Kennewick Man Will Be Given a Native American Burial
The Guardian: Rreservation or plunder? The battle over the British Museum's Indigenous Australian show
NDTV: London Point Of View: Give Back Kohinoor? Fat Chance!