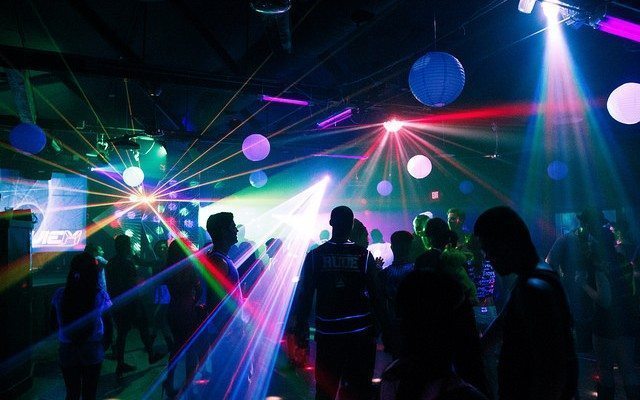 Image courtesy of [Kevin Cortopassi via Flickr]
Entertainment & Culture
EDM Stands for Electric Dance Music, Not Eating Dem Mollies
By
|
Electronic Dance Music ("EDM") is here and it has taken the United States by storm. The popularity of EDM shows, combined with their mind-numbing music and effervescent visual superiority has transformed ordinary concert goers into multi-day event attendees. Lately however, much of EDM's glitz and glamour has been tarnished by young adults held firmly in its clutches. The music is one thing: everyone loves a good beat, some vocals, and beautiful people to enjoy it with. It's when the beat doesn't stop and the shows become more about the drugs inherent to them that one wonders whether EDM shows are promoting drug use. Read on and decide for yourself.
---
What is EDM?
Electronic Dance Music or "EDM" is a music genre that evolved around the sound-system scene. The underground movement transformed from hip-hop crazed fans to other genres such as house, trance, and dub step. Originally, the scene started in warehouses, but quickly spread to massive productions and stadiums filled to the brim for the entertainment needs of 300,000 plus fans. However, the scene itself seems so much more. It's a lifestyle, similar to the sex, drugs, and rock and roll of the 80s.
As the internet expanded so did the potential of this newly popularized genre. Part of EDM's growth is attributed to the inner workings of social media, allowing DJs to post music and have others listen to and comment on it. Moreover, with word-of-mouth marketing outdated (at least in the music popularity sense), fans keep to apps such as Pandora and SoundCloud. SoundCloud, for example, allows users to listen to multi-day festival sets (multi-hour mixes) from their favorite DJs. Although fans listen to these mixes, this makes no sense to old-school rockers like Tom Petty. In a recent interview by USA Today, this is what he had to say about EDM festivals:
"Watch people play records? That's stupid. You couldn't pay me to go. I'm not oversimplifying it," he seethed. "That's what's going on. I don't think it would be any fun without the drugs. It's a drug party." 
Maybe Petty is right, but his subjective views would be harshly rebutted by some of house music's longtime fans. Fans — especially old-timers in the dance music industry — may characterize his opinion as hypocritical, considering that he criticized the genre by equating the style to drug use. Instead, Forbes Magazine described EDM as the following:
"As for live performances, electronic dance music artists perform live by deejaying, playing their own songs and, again, the songs of other artists, at a range of events held at stadiums or clubs around the world. They are not playing an instrument or singing a song, but instead controlling the crowd's emotions through expert song selection and sound mixing." Forbes
To most EDM observers, Petty's opinion is probably antithetical and Forbes' is accurate. Although the lifestyle may be a stretch into the imaginative, perhaps getting dressed up to go to a club or festival has a cultural feel to it. Is it really any different than the way attendees dressed and partied at Woodstock? Doesn't our culture encourage lavish outfits with a dash of creativity? Denouncing creative passion seems unfair, which is why evaluating EDM's transformation is critical.
---
When did EDM become popular?
EDM shows sprung to popularity over the last five years. But society has witnessed changes in music tastes over the decades. In the 1980s and 90s, dance clubs like Twilo and Limelight lit up NYC streets. The underground scene was alive, creating its own sub-culture of "Club-Kids," forever eternalized in the movie Party Monster. Throughout the 90s the scene dissolved, but starting in early 2009, there was a sudden re-emergence of the flashing lights, thumping bass, and of course, flamboyant outfits. But where did this come from? Did the music ever really die out? Maybe it was a long overdue awakening.
In 2009, David Guetta catapulted to fame by releasing tracks like "When Love Takes Over" and "Sexy Bitch." Although he was relatively unknown to the majority of EDM enthusiasts, his presence took underground music and launched it onto the national stage. Electronic music, a favorite of fans all over Europe, suddenly swept through the States. Asked about the roots and influence his music has had on the States, Guetta said,
"I've created a bridge between European electronic culture and urban American culture, and I've worked with established brands. So media has given us a chance, an opportunity that I never had before."
For once, artists no longer needed to compete against each other because Hip-Hop and Techno finally started to both co-exist and merge. In addition to the music, which was uncharacteristically played on HOT 97 Hip-Hop radio stations, television shows vied for the opportunity to capitalize on the music's popularity. The end-result: shows like "Jersey Shore" captivated young audiences, teaching them the proper way to fist pump, tan, and do their laundry.
European music culture is largely accredited with the emergence of Techno and EDM in the United States. However, many fans don't appreciate the roots of the music they listen to, considering that ingrained in the soul music of Chicago in the 1980s lay the humble beginnings of EDM's underground culture. Except thirty years ago, a Deejay wasn't someone with a laptop, but rather someone who sifted through dusty boxes of oldies and mixed songs using turntables in the back of restaurants.
After announcing his retirement in 2012, superstar underground/resident DJ Danny Tenaglia explained the modern phenomena as compared to the 70s gospel and deep house from which his inspirations flowed. When asked about the grand venues and music that have revolutionized today's dance scene, he was honest.
"[Some DJs] make so much money selling out nightclubs," Tenaglia says, referring to the scene's current stars. "But I'm sure [they realize] the immaturity factor and the silliness of some of these melodies. It's so preschool; it's like listening to Sesame Street!"
In Tenaglia's heyday, successful DJs needed rhythm, soul, and timing. Unlike today, they couldn't syncopate sounds with the push of a button. It wasn't uncommon for DJs to dance in the crowd and make small talk with their fans. Moreover, the crowds weren't little kids on drugs. Drugs existed, but they were secondary to an underground culture of misfits and alternative folk. Today, it seems the music has taken a backseat to the drugs involved in EDM concerts. How did this happen? Is this just a modern spin-off? Or is this a culture, a newly-minted version of a dying fad?
---
Is EDM for real?
The younger generation may be changing the meaning of Dance Music in EDM. Directors Dan Cutforth and Jane Lipsitz are on the forefront of understanding the why and how factors of EDM in their new documentary "Under the Electric Sky," which showcases the "community" feeling of EDM culture. One of the six subjects the documentary, Jose, a wheelchair-bound young man, accredits the success of EDM to this community. He treats these festivals as therapy for his terminal condition.
"If people could just treat each other the way they treat each other at EDC … the world would be a much better place."
The majority of people would agree with his assertion. Most people want to feel part of a community because isolation has its own social stigmas. Regardless, drug use at music concerts is nothing new. However, these days it seems like the old dog has learned a few new tricks, and playing with "Molly" is one of them. Sebastian Ingrosso, long-time DJ/producer and original member of Swedish House Mafia, addressed the surge in EDM drug-related injuries.
"It's a terrible thing that kids need to take drugs to enjoy something. I enjoy music without any kind of substance and I wish that all other people could do the same, because when you're sober and you get high on the music you can really feel it and get what's going on."
From a professional standpoint, Ingrosso may have hit the issue on its head, and he's not the only one. In fact, more vocal proponents like DJ/Producer Kaskade, use internet outlets like blogs to advocate social responsibility among EDM festival attendees.
"It's important to take a step back and realize the importance of life. Like, hey we're all here to have a good time. Let's do it in a way that's smart so we don't have to have these conversations."

---
Who or what is Molly?
According to the Week, Molly is methylenedioxymethamphetamine, but it is commonly known as MDMA — the active ingredient in the party drug Ecstasy. Specifically:
"Whereas Ecstasy is frequently combined with other, potentially more dangerous drugs — including speed, ketamine, or even LSD — Molly is a fairly recent rebranding effort that is said to contain pure MDMA. Molly is often ingested in a powder of crystal form, and is available illegally for $30 to $50 a dose." The Week
Molly boosts serotonin in a user's brain, neuroepinephrine, and dopamine, allowing a user to feel elevated moods and feelings of empathy. In fact, the drug produces heightened emotions and perceptions. According to the National Institute on Drug Abuse, the drug boosts:
Serotonin and triggers the release of the hormones oxytocin and vasopressin, which play important roles in love, trust, sexual arousal, and other social experiences. This may account for the characteristic feelings of emotional closeness and empathy produced by the drug; studies in both rats and humans have shown that MDMA raises the levels of these hormones.
Although a single dose is relatively non-fatal, many users "stack" more than a single dose in an evening in order to reignite Molly's earlier effects. As one user told The New York Times, "It makes you really happy. It's very loose. You just get very turned on — not even sexually, but you just feel really upbeat and want to dance or whatever." Michael C. Gerald, explored Molly's effects in The Drug Book. He described Molly as a stimulant that, "produces euphoria and physical energy, increasing feelings of empathy and intimacy with partners" that makes users feel as if "all is right in the world."
After nonstop frenetic dancing for hours in hot, crowded surroundings, some participants experience hyperthermia, a dangerous rise in body temperature that can cause kidney and liver failure. Drinking excessive volumes of water, coupled with dehydration due to sweating, can cause a steep drop in blood sodium levels, potentially resulting in confusion, delirium, and convulsions. The Drug Book.
That's right. Even Molly, inherently known for its good effects, can have serious consequences. MDMA boosts one's internal temperature, interfering with the body's self-regulation of temperature. In turn, this can lead to hypothermia, cardiac arrhythmia, muscle breakdown, and renal failure. The more serious consequences include brain damage, and in some cases death. But why has the Millennial sub-culture become so involved with the drug? Only exploring its use at festivals can give a genuine answer to this question.
---
Why do people take Molly at festivals?
EDM shows are the perfect playground for experiencing both Molly's visual and emotional perceptive enhancements. Festivals are fashioned for Molly users. Big-Screen animations, thundering sound systems, and thousands of people, provide both the visual and emotional stimulations for enjoying the drug.
In fact, using Molly has transcended across all age groups, even inciting interest in adults in their thirties and forties. "Typically in the past we'd see rave kids, but now we're seeing more people into their 30s and 40s experimenting with it," said Dr. Glatter. "MDMA use has increased dramatically. It's really a global phenomenon now."
The problem is these festivals are heating up the debate as to whether they promote drug use. In 2011, "hospitals across the country reported more than 22,000 MDMA-related emergency-room visits, which according to the Drug Abuse Warning Network, is a 120 percent increase from 2004." This spike has led to public scrutiny regarding the efforts festival management implemented to combat the rampant use of drugs at their shows.
---
What has EDM management done to combat drug use at their shows?
If the DJs producing and playing the music are opposed to "kids" using drugs for their musical enjoyment, then what have festivals done to account for these concerns? Last year two fans died after overdosing on Molly at New York's Electric Zoo Festival despite having 70 emergency medical technicians, 15 paramedics, five ER nurses, two physicians, and numerous other medical personnel on hand at Randall's Island. According to Rolling Stone, "during a press conference after the tragedy, New York Mayor Michael Bloomberg praised promoter Made Event for putting in 'as good procedures as we could think of.'" In response to and after heavy public opposition, the third day of the festival was cancelled. This year, festival-goers were required to watch this two minute video before gaining admission into the Zoo.
It seems American health concerns have taken cues from their U.K. counterparts, where BBC reported only 27 out of an estimated 500,000 Molly users died last year. This isn't to suggest that the number isn't high, but only to display the concerted effort by festival management and attendees alike. This proactive approach is demonstrated by Electric Daisy Carnival's website, which provides guidelines on health and wellness detailing everything from medical stations, to water intake suggestions, to buddy system traveling. The formula seems simple: take care of each other and we will continue hosting EDM events. Providing this ultimatum and instituting these changes supports that festival management has finally recognized the dangerous concoction of drugs and the kids taking them that attend their shows.
---
Conclusion
Whether or not canceling the final day of a multi-day festival or creating the aforementioned PSA video helped combat the drug-related deaths at this summer's events is debateable. After beefing up security and teaming with local officials to search bags for contraband, there were no deaths to report at Electric Zoo this past summer. Maybe festival goers finally got the message. Either that, or a few too many Mollies threatened a $6.2 billion dollar market, forcing the hand of festival management to play safe or bite the bullet.
---
Resources
Rolling Stone: Drugs, Death, and Dance Music
Billboard: EDM Biz Worth $6.2bn (report)
ElectricDaisyCarnival: Tickets
National Institute on Drug Abuse: Drug Facts: MDMA
Forbes: Is Electric Dance Music the Ticket to Reach Millennials?