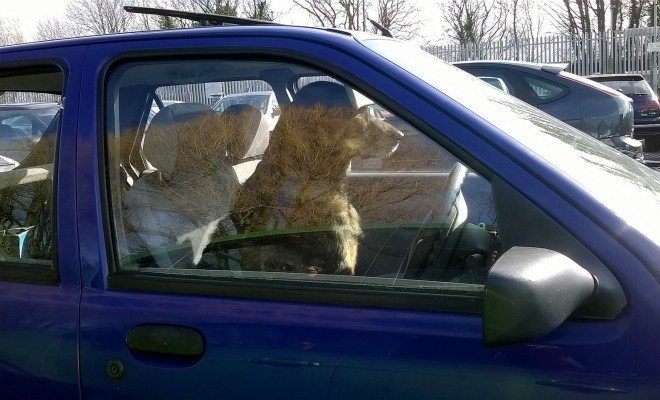 Image courtesy of [grassrootsgroundswell via Flickr]
Weird News
Man Saves Dog From Hot Car, Gets Arrested
By
|
It's a relatively accepted "no no" for an adult to leave a child locked in a parked car in the scorching heat while they grab a latte, chat with a friend, take a yoga class, or basically do anything that doesn't involve supervising their child. This type of abandonment is so taboo that states have even implemented laws allowing good samaritans to go full on Jazmine Sullivan and "bust the windows out ya car" to rescue trapped overheating kids. Unfortunately one Georgia man learned that these laws don't extend to pets after he decided to save a panting pooch and was rewarded with handcuffs.
According to a story from USA Today, Michael Hammons, a Desert Storm veteran, used his wife's wheelchair leg to smash the window of a parked car after hearing from bystanders that there was a dog inside in distress. Hammons told USA Today,
I've got PTSD, and I've seen enough death and destruction, and I didn't want anything else to happen if I could prevent it.
One woman who witnessed the rescue claimed to reporters that "if it is 80 degrees outside, within 30 minutes, it will be 114 degrees inside a vehicle, even with the windows cracked." Bystanders had reportedly already phoned 911 before and were waiting for police to arrive, but for Hammons there was no time to lose. Understandably so, as who wouldn't want to save this face?
Man saves dog in hot car, but gets arrested http://t.co/us6hgullNh pic.twitter.com/SSwImry7js

— WBIR Channel 10 (@wbir) May 12, 2015
Police were forced to take action after the owner of both the dog and car came out of the store pissed and demanded police arrest him. Oconee County Chief Deputy Lee Weems told USA Today,
We would not have made those charges on our own. The deputies on scene say the owner of the car and of the dog was very insistent that he be charged with criminal trespassing.
The dog's owner claimed that she had only been gone five minutes, even though witnesses said it was actually much longer. Regardless of how long her errand actually was, the decision to leave her dog susceptible to heat stroke in 80 degree weather wasn't a bright decision on her part. Since there was no surveillance video proof of her alleged lengthy abandonment, deputies were only able to issue her a citation. Interestingly enough, USA Today reports that Georgia state law does allow for an individual to break a window to save a child in a hot or cold car, just not a pet.
As we approach summer and hotter temps, there will undoubtedly be more cases of naive people leaving young kids and pets being locked in hot cars, so if you're considering your own rescue attempt consider what happened to Michael Hammons first, and maybe consider waiting for the police.