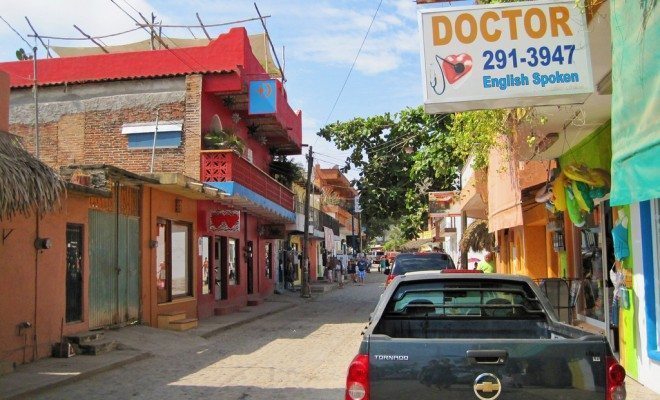 "sayulita" courtesy of [apasciuto via flickr]
Weird News
Is Olivia Newton-John's Dead Ex-Boyfriend Secretly Living in Mexico?
By
|
Patrick McDermott was found in Mexico last week. Again. Maybe. We can't be completely sure because McDermott, a cameraman known most for his relationship with singer-actress Olivia Newton-John, may or may not have faked his own death in 2005.
It's hard to know what the truth is, but we know a few things for sure: On June 30, 2005, McDermott disappeared while on a charter fishing boat. More than 25 passengers and crew members gave conflicting alibis to the police–because life is just another episode of "CSI: Miami." The Coast Guard investigated his disappearance, coming to the conclusion three years later that he had drowned. Of course, anyone who's seen any decent crime procedural TV show knows that the first explanation is far too simple to be correct. After all, there are still 15 minutes left in the show! The bombshell here is that McDermott may have owed his ex-wife $8,000, that he had just filed for bankruptcy, and may have had a life insurance policy for his son worth $100,000.
When something happens that sounds ridiculous enough to be on a TV show, it becomes a TV show, so McDermott was the subject of a Dateline special involving the most obvious trap ever set for a D-List celebrity. The investigators launched a website called FindPatrickMcDermott.com (which is no longer online, #MissionAccomplished). Whenever someone visited the website, their I.P. address and location were logged. Soon, reports of McDermott in Mexico and Central America surfaced, and an investigator named Philip Klein received a fax from Acapulco, Mexico. (Aside: "A Fax From Acapulco" sounds like the title of the world's worst mystery novel). The fax was from a 'representative' of McDermott and led to the exchange of documentation and "voice imprints," which proved beyond doubt that McDermott is alive.
So the investigation ended and all was well and good. Except for just one thing: the ex-wife. Yvette Nipar, who had a son with McDermott, claims that Klein provided no proof of life whatsoever and that his book about the incident was just an attempt to profit off of a man's death. To date, there has been no photographic evidence of Patrick McDermott alive in Mexico.
This case resurfaced just days ago when the Australian magazine "Women's Day" published "exclusive proof" of McDermott's livelihood from investigator Phillip Klein. The story shared the cover with "Best Ever Easter Rocky Road: Too Easy!" and "Sam Armytage's 7-Week Super Slimdown!" The magazine also cites investigator John Nazarian as saying, "It's rumored he was with a German national. I spoke to people there [in Mexico]. The girl he was traveling with was described as having a German accent." He alleges that McDermott is living and working in a remote Mexican village called Sayulita.
Crazy Report Claims Olivia Newton-John's Ex Patrick McDermott Is Alive, Secretly Living in Mexico https://t.co/NhF1XJzAGU

— Jennifer (@janal811) March 23, 2016
So what is the truth? It's possible that McDermott actually did drown in 2005, which means that Klein is a liar, Nazarian is a liar, or they've been fooled by bad evidence and a girl with a German accent. On the other hand, McDermott could have skipped town, abandoned his family and his financial responsibilities, to start over, off the grid, in Mexico. We've been told that proof of that story exists, but haven't seen or heard it—and in the age of camera phones and the internet, it's suspect that there hasn't been a single photo of him in Mexico.