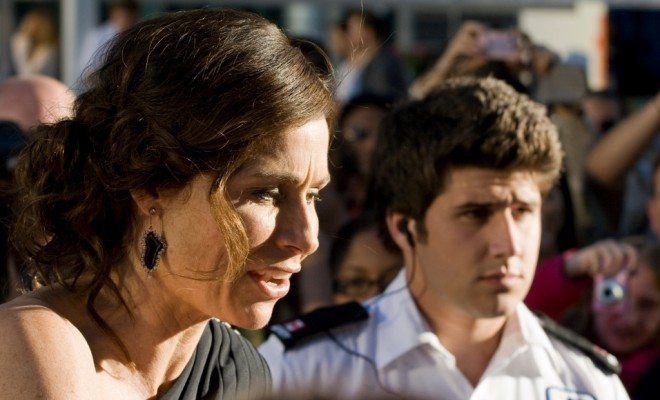 Image courtesy of [Josh Jensen via Flickr]
Weird News
Minnie Driver And Her Neighbor Are In a Bizarre Legal Dispute Involving Baby Food Jars
By
|
The award for "most creative vandalism" may have to go to Minnie Driver–the actress has been accused by her neighbor of throwing "baby food jars filled with black paint" against the walls of his property, according to TMZ. Daniel Perelmutter has filed a lawsuit against the "Good Will Hunting" actress, claiming that she has been interfering with construction on his home and causing him a great deal of stress. He also accuses the actress of blocking access to a shared electric gate in front of his driveway.
The baby food paint grenades are just one part of what seems to be an ongoing, bizarre war between Driver and Perelmutter. Driver was granted a temporary restraining order against her neighbor last year, and last week Perelmutter pleaded not guilty to a contempt charge after Driver accused him of "yelling profanities, scaring her children and jumping in front of her car," according to KABC-TV.
Cops also had to come by and break up a fight between the neighbors last week, after Perelmutter's delivery truck blocked Driver's driveway.
Perelmutter fired back against the claims and spoke in front of the courthouse last week, telling a reporter that the actress has wished death upon him multiple times and that she needed to be "institutionalized." Perelmutter, who recently had a heart transplant and was holding a cane while speaking to reporters, pointed out that he was "in no condition" to leap in front of her car, and alleged that Driver herself was the one who tried to hit him.
Before rushing to judgment, it seems that this isn't Perelmutter's first time fighting with a neighbor over property. A 2008 filing shows that he fought with previous neighbors over access to a shared driveway, a case which he appears to have lost.
It remains to be seen who's truly at fault in this "he-said, she-said" situation, but with a trial set for August, this totally bizarre case is worth keeping an eye on.