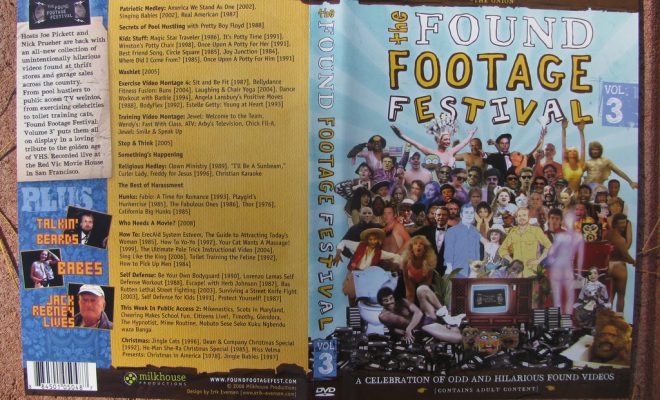 "Image" Courtesy of Raquel Baranow: License (CC BY-SA 2.0)
Weird News
Comedians Sued for Pranking a Wisconsin Morning Show
By
|
Back in November, the single greatest segment in the history of morning television aired: On WEAU-TV's "Hello Wisconsin," two comedians, presenting themselves as the fitness duo "Chop and Steele," demonstrated fake home fitness tips like speed stomping on straw baskets, lifting jugs of gravy, and karate-chopping fallen branches with fervor.
It was later discovered that "Chop and Steele" were actually Joe Pickett and Nick Prueher, New York-based comedians who host the live comedy and film event The Found Footage Festival.
Gray Television, WEAU-TV's owner, did not appreciate being on the receiving end of this beautiful moment in television history, and is now suing the two comedians for committing fraud, copyright infringement, and conspiracy to commit a wrongful activity, according to The Mercury News.
Gray Television writes in their complaint that Pickett and Prueher have been re-airing the "Hello Wisconsin" episode at Found Footage Festival events, which the company claims is an infringement of their intellectual property. Gray Television is asking for compensatory and punitive damages, as well as fees incurred in pursuing this litigious action.
The suit also states that the duo misused airtime in order to advertise their own brand, which they misrepresented to the station during the booking process. According to the New York Daily News, the duo, under the name "Jerry Chubb," emailed two of the show's anchors a fake press release presenting Chop and Steele as a duo that "us[e] their muscles to entertain and educate" and had previously been fan favorites on season three of America's Got Talent.
According to The New York Post, the suit quotes Pickett and Prueher saying that local morning programs are "easy to exploit," and highlights another instance when the duo pulled a similar stunt where Prueher dressed up as an expert chef to promote a fake cookbook on the "Fox 6 Wake Up" morning show in Milwaukee.
The Grand Forks Herald points out that Pickett and Prueher had actually appeared as Chop and Steele on other morning shows like "Good Day Dakota," where, during the bit where the duo lifts the jugs of gravy, one of the jugs Pickett was lifting fell and spilled onto the floor of the studio. Pickett said that he felt so bad about the accident that he stayed after the segment was over and helped clean up. According to the Grand Forks Herald, the "Good Day Dakota" team seemed to have fun with the segment, and Pickett credited one of the anchors for being game with the ridiculous segment.
Pickett and Prueher have expressed to numerous outlets their general annoyance with Gray Television's lawsuit; however, speaking to the Grand Forks Herald, Prueher said that he was amused that a whole law firm "has to parse out every dumb thing we said and did on that show."