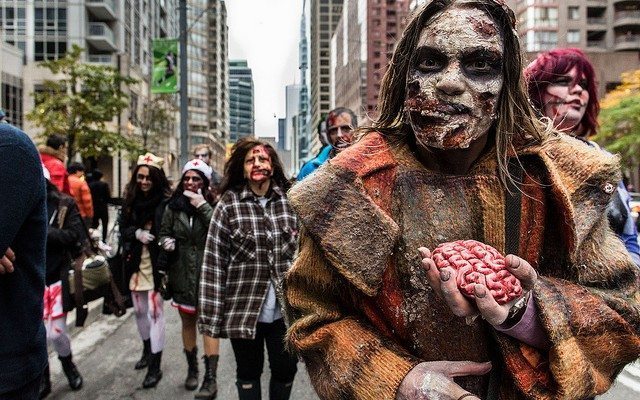 Image Courtesy of [Kat N.L.M. via Flickr]
Weird News
Binge-Watching Netflix Led Man to Murder his "Zombie" Friend
By
|
It's getting closer and closer to Halloween, and for many that means costumes, candy comas, and scary movies. However this year there are some that clearly can't handle the latter. Case in point, last week a New Mexico man who had been drunkenly binge-watching "The Walking Dead" on Netflix beat his friend to death with a microwave and an electric guitar after becoming convinced that he was turning into a zombie.
Man binge watching "The Walking Dead" allegedly killed friend he thought was a zombie https://t.co/Owbs8jAQKJ pic.twitter.com/qT8N6R9GOS

— BuzzFeed UK (@BuzzFeedUK) October 27, 2015
According to the Associated Press,
Grants police spokesman Moses Marquez said Sunday that 23-year-old Christopher Paquin was beaten and that 23-year-old Damon Perry is being held on a murder charge. Police say Perry beat Paquin with his hands, feet, an electric guitar and a microwave.
Really, a microwave?
Authorities were called to the apartment complex after Perry's neighbors phoned 911 to report that a man was running around the complex threatening people with a knife. When they arrived, they found two maintenance workers had pinned Perry to the ground and discovered Paquin's body inside an apartment with signs of trauma. He was pronounced dead at the scene by paramedics.
Grants, New Mexico police department spokesman Moses Marquez told the Daily Beast, "It was one of the absolute worst [crime scenes] I've ever seen, and I've been with the department for 15 years."
According to police reports, Perry told officers that he had been drinking multiple 40-ounce bottles of malt liquor when Paquin began "to change into a zombie" and tried to bite him. That's when he began to beat him to death with random household items. Currently Perry is being held in police custody, but his lawyer has yet to comment publicly on the charges.
I'll just go ahead and say it: this is absolutely crazy. Who kills their "friend" because they watched too much TV and believed they were morphing into a fictional creature? There's a reason it's called Netflix and chill, and not Netflix and kill. The entire thing is an incredibly weird and tragic story–it's hopeful that Perry gets the help he needs.