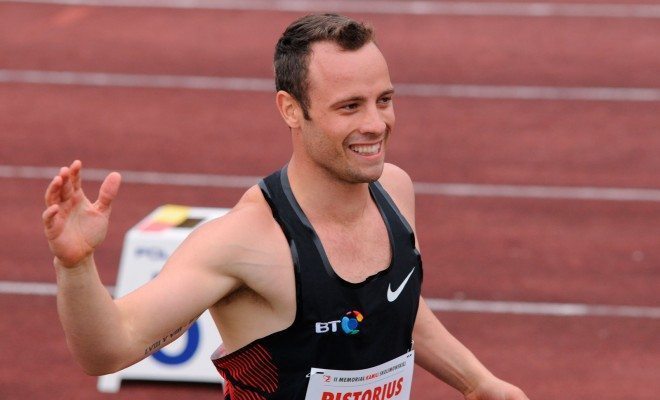 Sports
Countdown to Blade Runner Verdict: Will Money or Fame Make an Impact?
By
|
Eleven days of  evidence have finished in Oscar Pistorius' murder trial and still it's difficult to ascertain the track star's guilt. Some speculate that the national icon will walk, while the public is reluctant to call him innocent. Will his fame influence the finding in his case? Attorneys and bloggers alike speculate that athletes skirt the criminal justice system because of their fame. But is that true? Let's take a look at some examples.
Donté Stallworth tends to be exhibit A for those who believe athletes get off lightly in the criminal justice system.  In March 2009, Stallworth struck and killed a pedestrian in Miami Beach, Fla. after admitting he drank alcohol earlier in the night. Stallworth served only 30 days in jail as part of a plea bargain, a sentence inciting ire from many who say athletes live in a privileged world. But Stallworth's sentence may have been the result of circumstances lacking the typical repugnance of a DUI manslaughter case, rather than the result of his fame. Sources claimed Stallworth's victim, Mario Reyes, was running across the busy road when Stallworth made contact with him. Stallworth also stopped and immediately dialed 911. He reached financial settlement with Reyes' family rather than drag out proceedings in civil court. Criminal attorneys would probably wager these facts were more integral to Stallworth's plea deal than his fame.
Mark Ingram Sr. was a star NFL receiver in the 1990s, but has since been charged with money laundering and bank fraud. In January 2009, Ingram Sr. failed to report to authorities to begin his federal prison term, instead deciding to watch his son, former Alabama running back Mark Ingram Jr., play in the 2009 Sugar Bowl. The decision to watch his son play cost Ingram Sr. two more years in prison, although U.S. District Court Judge Thomas Platt seemed to issue the elongated sentence begrudgingly.
Plenty more athletes have earned both long and short sentences for committing crimes. The difference maker in many of these cases may be the factor that often coincides with their success: money. Higher socioeconomic standing has long been found to impact the criminal justice system, but the relationship may be more closely followed now than ever before following the Texas "affluenza" case and the growth of private prisons.
Pistorius' case could be the latest example of how wealth aids criminal defendants. The "blade runner" has amassed a legal bill that few could pay, but fortunately for Pistorius, he and his family can afford it.
—-
Andrew Blancato (@BigDogBlancato) holds a J.D. from New York Law School, and is a graduate of the University of Massachusetts, Amherst. When he's not writing, he is either clerking at a trial court in Connecticut, or obsessing over Boston sports.
Featured Image Courtesy of [Wikipedia]