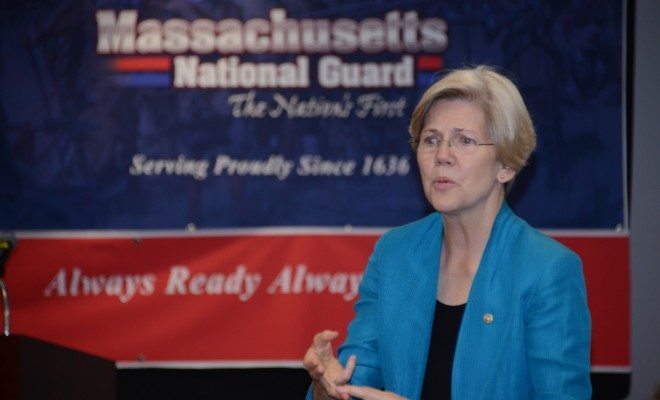 Image courtesy of [Massachusetts National Guard via Flickr]
RantCrush
RantCrush Top 5: May 9, 2016
By
|
Welcome to the RantCrush Top 5, where we take you through the top five controversial and crazy stories in the world of law and policy each day. So who is ranting and who is raving today? Check it out below:
Elizabeth Warren and Donald Trump's Twitter War Escalates
Today's edition of "Morning Joe" on MSNBC discussed some very important news: Donald Trump and Elizabeth Warren's Twitter war. Besides the fact that it's getting very much out of hand, the hosts raised some real concerns that it reflects the state of American politics in the age of social media. Likening the debacle to cyberbullying, the hosts wondered what kind of awful example these "leaders of the free world" were setting for young people. They also wondered when the senator and GOP frontrunner were going to use their Twitter savvy to impact real change on actual issues instead of personal attacks. While many see Trump's weekend jabs at Warren and the Clintons as weaknesses, many others see it as turbo fuel for getting him to the White House. Check out the full early morning rant below:
Uber & Lyft Vow to Leave Austin, Texas after Voters affirm regulations
Ride hailing companies Uber and Lyft lost their grip Saturday after Austin voters decided it would be best for the companies to continue to be regulated by the city's ordinances instead of looser laws. This requires Uber and Lyft drivers to undergo more intense background checks, among other protocols. The two companies have seen worldwide success and popularity, but it did them no good in Austin, a presumably  lucrative market. Although they spent over $8 million on ads, voters didn't go their way. To be very honest, after that crazy  driver in Kalamazoo, Michigan that killed six people, injured others, and claimed to be possessed by the app, many feel as though no amount of regulation will be quite enough.
Ivy League economist ethnically profiled and interrogated for doing math on American Airlines flight
You may be wondering: How does one get interrogated for doing math on an American Airlines flight? Let alone a differential equation. Because when someone is doing that kind of math in their casual spare time it must be important and you shouldn't question them. You should just stand back in awe, because most Americans actually suck at math.
But this puzzling scenario happened to Guido Menzio, a decorated Ivy league economist. Unfortunately for Menzio, a passenger next to him thought he was writing in Arabic and was, presumably, a terrorist. *Face palm* Instances of this kind are on the rise, and are often unfounded, as seen with the "Clock Kid" 14-year old Ahmed Mohamed, who was arrested for bringing a hand-made clock to school.
Melissa Joan Hart and Julianne Moore March for "Gun Sense"
Melissa Joan Hart and Julianne Moore are two Hollywood stars who were greatly affected by the news of the Sandy Hook shooting, a tragic event that left many young children dead and dozens parents mourning. This past weekend, the actresses joined hundreds of parents in support of Moms Demand Action, a group advocating gun control. Gun control has been a contentious topic of dispute for many years. But while many attribute pro-gun attitudes to conservatives and anti-gun to liberals, Moore has said she believes it should not be a partisan issue but rather a "safety" issue.
'They stole my big brother': violence turns child into champion for 'gun sense' https://t.co/Ji36LIfiMJ pic.twitter.com/V8DFjZwqu0

— Moms Demand Action (@MomsDemand) May 9, 2016
Joaquin "El Chapo" Guzman can be extradited to U.S. to face charges
Just in case there wasn't enough El Chapo drama in your life, a Mexican judge ruled that El Chapo can be extradited to the U.S. to face charges for drug trafficking in accordance to a U.S.-Mexican extradition treaty. Although the legal side has been justified, the ministry has 20 days to authorize the extradition.
In the meantime, El Chapo has been moved to a less secure prison in Juarez, one of his cartel's strongholds. An anonymous official admitted that there is concern that, while Guzman is being surveilled day and night in a secure wing of the prison, the Juarez prison is more lax than the one Guzman previously resided in. This move raised eyebrows for the DEA, and officials questioned the logic of moving him to a less secure prison where he potentially had the tools and people to help him escape. Prison break again, anyone?