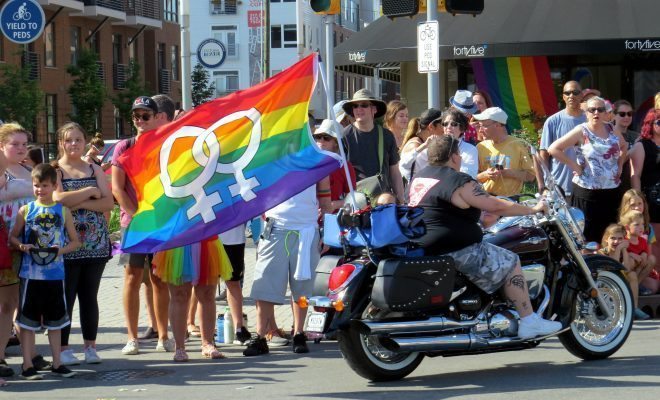 "CADILLAC BARBIE IN PRIDE PARADE ON MASS AVE." courtesy of [Steve Baker via Flickr]
Politics
Two Transgender Women Historically Won Democratic Primaries on Tuesday
By
|
Not one but two transgender women, both named Misty, won Democratic Primaries held on Tuesday. This is a big step forward for the LGBT community and is well timed since June is National LGBT Pride Month.
In Utah, Misty Snow won the Democratic nomination for the U.S. Senate, while in Colorado, Misty Plowright won a House primary.
JoDee Winterhof, from the Human Rights Campaign, said to NBC:
It is historic that this November, the top Utah Democrat on the ballot in that state will be a transgender woman. Regardless of the outcome in the fall, both of these candidates have demonstrated to transgender people across the country that our politics are stronger when diverse voices are not only heard, but also included.
Neither of the women have much experience in politics, but want to offer voters an alternative to the other candidates that are running.
Misty K. Snow & Misty Plowright made history yesterday, and also they are my favorite political figures in ages https://t.co/7OoxouQ61Z

— J. Escobedo Shepherd (@jawnita) June 29, 2016
Misty Snow, from Utah, is the first transgender person to run for a Senate seat from a major party. Her day job is at a grocery store and she doesn't have a college degree, but she beat marriage therapist Jonathan Swinton by a big margin. She is challenging Utah Senator Mike Lee, who is very conservative, with Bernie Sanders-inspired ideas such as $15 minimum wage, paid parental leave, and free college tuition.
Misty Plowright works in tech in Colorado and described herself as "the anti-politician" and an IT nerd. She also beat her opponent, an Iraq war veteran, easily and wants to get private money out of politics and for the whole country to have access to high speed Internet.
Neither of the candidates focused on the fact that they're transgender women in their campaign, but rather on progressive Democratic ideas. However, winning in November might be harder to do considering how relatively conservative both of their states are. However, after the recent bathroom debate in North Carolina, and the shooting in Orlando, Snow and Plowright provide some positive news for the LGBT community, no matter the outcome of these elections.