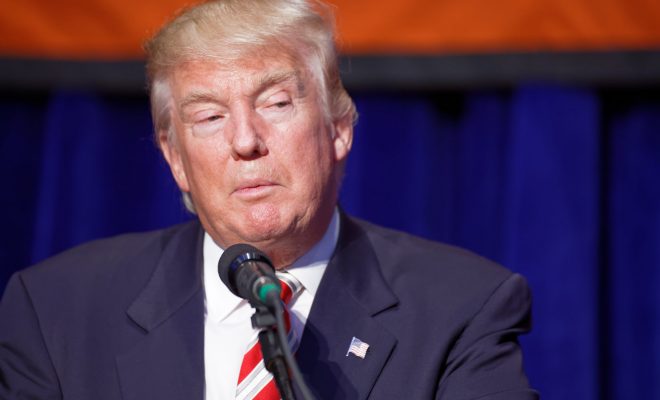 "Donald J. Trump at Marriott Marquis NYC September 7th 2016" Courtesy of Michael Vadon; License: (CC BY 2.0)
Politics
Time Magazine Asks Trump Organization to Remove "Fake News" Cover
After over a year of President Donald Trump accusing the mainstream media of disseminating "fake news," Trump has been caught with a fake Time magazine cover hanging in many of his properties. After learning of the situation, a Time spokeswoman said that the magazine had asked the Trump Organization to remove the fictional covers but it had not yet received a response.
This counterfeit cover was hung in at least eight of Trump's 17 golf courses, including Mar-A-Lago, which Trump has visited regularly since taking office. Additionally, the cover was hanging at Trump golf resorts in Ireland and Scotland until they were removed in the past few months, according to the Washington Post.
The fake cover, which is supposedly from March 1, 2009, praises Trump as a "television smash" and that he is "hitting on all fronts…even T.V!" But Time magazine argues that this is not a real cover. Instead, the real edition, which was released on March 2, 2009, features actress Kate Winslet on the cover with the headline "Best Actress."
There were a handful of issues with the presentation that tipped off observers to the fact that the cover was, in fact, fake news. First, the border was too skinny and was missing a white divider. Next, secondary headlines were stacked on the right side as opposed to the top where Time traditionally places them. Some of the stories did indeed appear in that week's edition, but others weren't published until the following month, according to Newsweek.
Another crucial mistake was the use of two exclamation points, which Time almost never uses on the cover.
The kicker is that the bar code is fake and pulled directly from this tutorial on how to make a fake Time cover. The instructions were laid out by a Peruvian graphic designer.
This situation prompted Virginia congressman Gerry Connolly to mock Trump on Twitter.
Wow, my first cover of Time. Asked my staff to frame this and hang it in all four of my offices. @realDonaldTrump https://t.co/Hx57ZJExR8 pic.twitter.com/y1HciTB5G1

— Gerry Connolly (@GerryConnolly) June 27, 2017
While it is still unknown who exactly put together the fake cover, or whether Trump himself knew about it, it's clear that Trump views Time covers as a sign of success. During his 2016 presidential campaign, Trump bragged about being on the cover "six for politics and…two for real estate." According to Time magazine history, Trump has indeed appeared on the cover plenty of times in the past year, albeit not always positively. But he only appeared once for his real estate ventures and that was in January 1989.
Even when giving a speech at the CIA headquarters in January, Trump boasted that he owned the "all-time record in the history of Time magazine." In actuality Trump has appeared on the cover 11 times up to this point while Richard Nixon, the 37th president, appeared on 55 covers before his death in 1994.
Despite having appeared on the cover of the prestigious magazine plenty of times, Trump has clearly been hyperbolic when describing his number of appearances. It is unclear whether Trump knew of the fake covers or why it was created when there were legitimate alternatives, according to the Washington Post.
While there are websites that aid the public in creating fake magazine covers, it seems unethical for the President of the United States to be promoting himself with falsified news covers. And this entire debacle seems even more troublesome in the context of Trump's repeated attacks on the news media.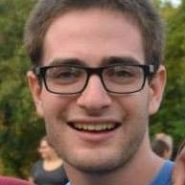 Josh Schmidt is an editorial intern and is a native of the Washington D.C Metropolitan area. He is working towards a degree in multi-platform journalism with a minor in history at nearby University of Maryland. Contact Josh at staff@LawStreetMedia.com.