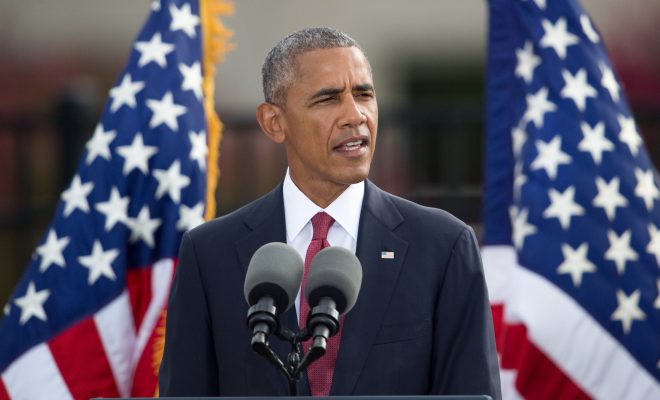 Image courtesy of [Chairman of the Joint Chiefs of Staff via Flickr]
Politics
President Obama Signs Historic Sexual Assault Bill into Law
By
|
On Friday President Obama signed the Sexual Assault Survivors' Bill of Rights; the most comprehensive sexual assault legislation to date. The new bill is a combination of existing laws from different states and will help make sure that rape survivors always know where their evidence is located, whether it has been tested, and the results. Previously, the legislation around rape and the handling of rape kits–the kit with materials and instructions for gathering evidence following a rape–has been unclear and repeatedly criticized.
Rape victims are sometimes even charged for their exam following a sexual assault, which is not supposed to happen. According to federal law, rape victims should not be billed for a forensic exam and necessary medical care. However, sometimes the medical guidelines go beyond what the law covers, and who pays for that part varies between different states. This will be resolved by the new law.
Thank you @glamourmag for reporting this historic day!https://t.co/vSsZpraYcF

— Amanda (@nguyen_amanda) October 7, 2016
.@POTUS just signed the sexual assault survivor bill of rights. Congrats @risenowus & all who work to end sexual assault every day! #ItsOnUs

— Valerie Jarrett (@vj44) October 7, 2016
The driving force behind the new law was 24-year-old Amanda Nguyen, who is a rape survivor herself and took action after her own rape kit was about to be destroyed. After being raped in 2013, she submitted a rape kit to the state of Massachusetts. According to the law she had 15 years to decide whether she wanted to pursue legal action, but the state threatened to destroy her evidence after only six months unless she filed a request for an extension. To ask this of a rape victim so that existing evidence is not destroyed sounds pretty bizarre.
"A global movement is happening & our most powerful tool is our voice." Amanda Nguyen on Sexual Assault Survivor's Bill of Rights #2030NOW

— FAWCO (@FAWCO) September 19, 2016
"The system essentially makes me live my life by date of rape," Nguyen said to the Guardian. It was also impossible to get a straight answer when she tried to find out where her evidence was located. On top of it all, she had to physically return to Massachusetts every six months to make sure the kit wasn't destroyed.
In a press release on the bill, Nguyen said:
We want to thank President Obama for signing the Sexual Assault Survivors' Bill of Rights into law today. This historic piece of legislation codifies the federal rights of the 25 million rape survivors in America and serves as a model for Statehouses to adopt.
Here are some of the rights that victims will be guaranteed under the new law:
The right to have a sexual assault evidence collection kit preserved for duration of the statute of limitations;
The right to be notified in writing 60 days before the destruction of a sexual assault evidence collection kit;
The right to request further preservation of a sexual assault evidence collection kit;
The right to be informed of important results of a sexual assault forensic examination;
A grant for attorneys general to provide survivors with written notice of what rights and policies they have in that state.