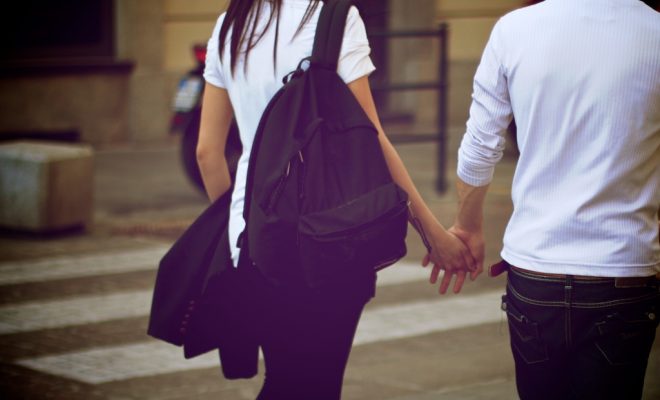 "Holding hands" courtesy of [Takumi Yoshida via Flickr]
Politics
OkCupid Takes a Look at Dating and Politics
By
|
Imagine you're writing your dating profile. You want to attract the perfect mate, so you include some details about yourself and what you're looking for. Maybe you include that you like partners who are willing to cry and share your love of "Broad City." Or maybe you're a big John Mayer fan, and like John Wayne movies. Well according to a new study from OK Cupid, the former indicates you're probably a liberal, while the latter are conservative traits.
According to OkCupid:
Whether we're aware of it or not, our political beliefs influence how we advertise ourselves romantically. To dig into this, we looked at words used on tens of thousands of OkCupid profiles to see which ones best distinguish liberals and conservatives, and then compared those words to OkCupid match questions.

Why? Because today, the amount of OkCupid users who couldn't date someone with opposing political views is at 50 percent — a number that's been rising since 2008. It turns out your vote really does count.
OkCupid analyzed 19,000 profiles of its users to attempt to determine trends based on political leanings. Some of the results fit true to stereotype–conservatives talked more about guns and christianity, and liberals are more likely to wax poetic about vegetarianism and NPR. But there were some funny revelations as well–especially when OkCupid looked beyond just whether certain words correlated to conservative or liberal profiles and dug deeper into what those words tell us about individuals' dating behavior.
For example, there are keywords that correlate to whether individuals are looking for love or just sex–and they differ based on political beliefs. Conservatives who are looking for some action mention steak and grilling, but Dr. Pepper indicates they're looking for something serious. Liberals who just want to get it on mention booze, but those who want love talk about avocados and vegetarianism.
OkCupid's study also delved into what conservatives and liberals might like during sex–according to Cosmo:
Democrats who want pain during sex reference Quentin Tarantino and "Pulp Fiction," while Republicans who want the same write about "The Walking Dead," "Tombstone," and (surprisingly) Disney.
Check out OkCupid's full report here, if you're curious about what kind of political leanings your dating profile points to.