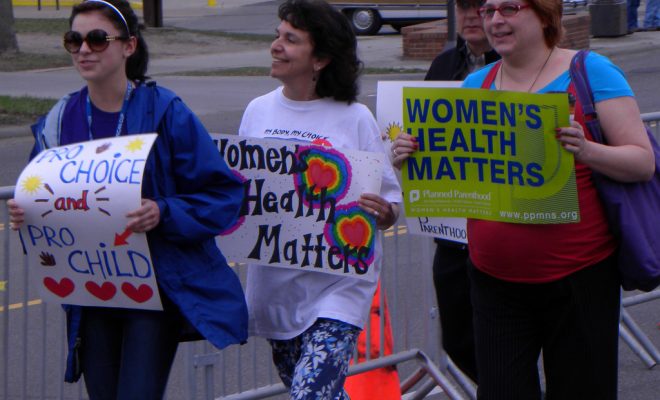 Image courtesy of [Fibonacci Blue via Flickr]
Politics
The Hyde Amendment Turns 40–Is it Time to Let it Go?
By
|
Friday marked the 40th anniversary of the Hyde Amendment's enactment, the provision that blocks federal money from being used for abortions for women who are covered by Medicaid. The provision, named after Republican Henry Hyde, makes it financially impossible for many low-income women to have an abortion. This leaves them with the options of having an illegal, dangerous procedure, using money that was meant for something else such as rent or food, or carrying on with an unwanted pregnancy.
According to pro-life activists, the policy has saved the lives of "millions of Americans." The director of National Right to Life, Douglas Johnson, has said it "has proven itself to be the greatest domestic abortion reduction law ever enacted by Congress."
On Friday social media was filled with conservative opinions saying the Hyde Amendment saved American lives.
Because of the #HydeAmendment, over 2 million people did not lose their lives to abortion. #HelloHyde #HydeSavesLives

— Liberty Pike (@Liberty_Pike) September 30, 2016
Republican Vice Presidential candidate Mike Pence wants to make the Hyde Amendment a permanent law.
40 years ago, the #HydeAmendment was enacted—a milestone in the fight for life. We need a leader who will protect the rights of the unborn.

— Mike Pence (@mike_pence) September 30, 2016
But recently more support for abandoning the policy has developed. Hillary Clinton–who also received Planned Parenthood's first-ever presidential primary endorsement–has spoken out against the provision and made repealing it part of her campaign, saying that abortion is a fundamental human right.
Today is the 40th anniversary of the Hyde Amendment. @HillaryClinton agrees – it's time to #BeBoldEndHyde: https://t.co/R9Jh68Xdz5 pic.twitter.com/GMtrBeBMEy

— Madam President (@Madam_President) September 30, 2016
Planned Parenthood released a statement Friday calling for an end to the provision.
Every woman—no matter how much money she makes or who provides her insurance—should be able to access the full-range of reproductive health care, including abortion. Every woman should be able to make her own decisions about pregnancy based on her own unique circumstances, and have the resources she needs to exercise that decision with autonomy and dignity.
And many opinions were voiced on Twitter.
Thank you @RepDianaDeGette for sponsoring the EACH Woman Act to repeal the Hyde Amendment. #copolitics #BeBoldEndHyde pic.twitter.com/HF5Dt4J6KN

— Gena Ozols (@genaozols) September 30, 2016
Learning how Hyde amendment hurts low-income communities #WeWontWait2016 @fullfrontalfem @KierraDC @jgonzalez_rojas pic.twitter.com/LPp3MjCDTP

— Luna Ranjit (@LunaRanjit) September 20, 2016
The women affected by the Hyde Amendment are also the ones who are most likely to experience an unwanted or unplanned pregnancy. Ending it would mean increased equality and access to reproductive care for all women.