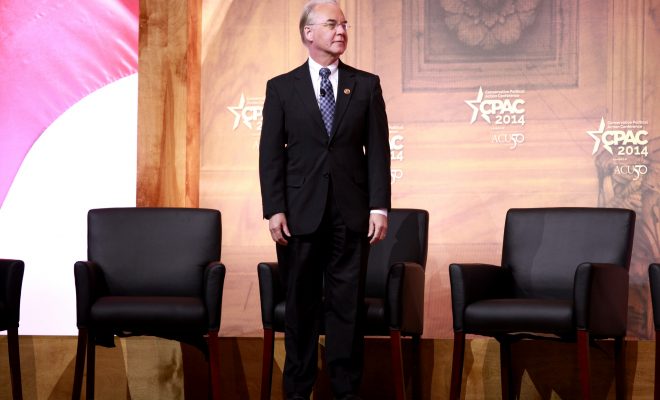 "Tom Price" Courtesy of Gage Skidmore; License: (CC BY-SA 2.0)
Politics
What You Need to Know About Jon Ossoff's Campaign for Georgia's Sixth
By
|
On April 18, Democrats hope to flip a reliably red district in suburban Atlanta blue, in a special election for the House seat left vacant by Tom Price. Price is now the secretary of Health and Human Services. Jon Ossoff, the leading Democratic hopeful, is one of 18 candidates for Georgia's Sixth District–most are Republicans. All will appear on the same ballot, which Ossoff, 30, hopes to exploit.
Decency. Humility. Respect. Values this campaign believes in. Values worth fighting for. https://t.co/fBvar6nbGX pic.twitter.com/P59QQ1t4dm

— Jon Ossoff (@ossoff) April 1, 2017
If the Republican vote is split among the dozen or so Republicans, Ossoff can win the election outright. To do that, he would need at least 50 percent of the vote which, in a district that has been a GOP bastion for decades, is far from guaranteed. If none of the candidates clinch the election with 50 percent of the vote, a run-off is scheduled in June for the top two vote-getters.
Republican strategists say that Ossoff's best chance is to win outright on April 18, something they cede is possible, but they remain confident that he would lose in a run-off to whichever Republican candidate emerges from the pack. Steve Strivers, the National Republican Congressional Committee chairman, recently told Politico that he is confident enough Republican voters will turn out to stave off the surging Ossoff.
"Special elections are special, and the Democrats and some independents are excited, so we need to make sure Republicans are just as excited about voting," he said "Our job is to make sure we keep him below 50 [percent]," Stivers added: "Then we coalesce and unite our forces around one candidate in June."
The top candidates from both parties are pulling an uncommon number of campaign donations. Ossoff has raised more than $4 million, including over $1 million from readers of the liberal-leaning news site, the Daily Kos. The surge in donations is likely a result of the liberal resistance to President Donald Trump, which Ossoff has pledged to join if he were elected. Republicans have also raised a few million dollars to boost their field of candidates, including front-runner–and former Georgia secretary of state–Karen Handel.
While the Sixth District has been a Republican stronghold for decades, there are some signs that Ossoff, a Georgetown University graduate who currently works as a documentary filmmaker, can turn the tide blue. For one, polls show Ossoff in the lead. But perhaps more importantly, the district supported Trump over his opponent, Democrat Hillary Clinton, by 1.5 percentage points, a far narrower victory than Republican candidates traditionally enjoy in the affluent, highly-educated district.
A Democratic victory would not have a sizable affect on the make-up of the House, as Republicans currently hold 237 seats to Democrats' 193. Five seats are vacant, four of which are open because the representatives were tapped for posts in the Trump Administration, including Price. But as one of the first elections since Trump's Election Day upset, Democrats could score a symbolic notch that could provide momentum for the mid-term elections in 2018.