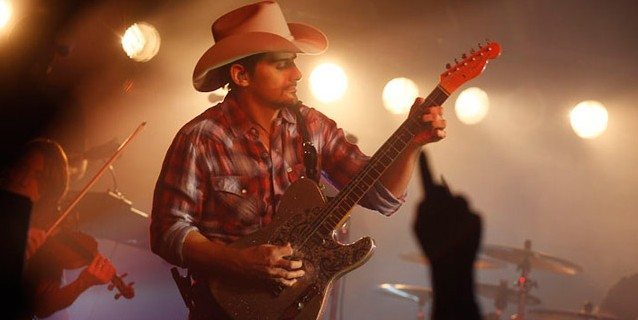 Image Courtesy of [Lunchbox LP via Flickr]
IP & Copyright
Brad Paisley is a Rebel With Some Moonshine in His Trunk
By |
Every country music fan knows Brad Paisley to be the funny guy. A naked baby photograph serves as his Twitter profile picture and his tweets are often witty wise cracks at fellow country celebs (with Carrie Underwood seemingly a favorite to tease). Paisley's work is creative and, at times, just plain comical. His song "Online" details the life of a "sci-fi fanatic, mild asthmatic," Pizza Pit employee who still resides with his parents. You can't help but chuckle as you sing along to that one.
Paisley's free spirit didn't have everyone at Sony Music laughing this month, however. Paisley employed various characters and personalities to help him leak his new album Moonshine in the Trunk. One song at a time, the artist leaked the music with help from people like Ellen DeGeneres, the web-famous Annoying Orange, and a NASA astronaut. Paisley originally announced his intentions over Twitter.
I'm going rogue. The label doesn't know I'm doing this. Seriously. But I made a Moonshine Preview teaser. Don't tell. http://t.co/8zZ4obKG4n

— Brad Paisley (@BradPaisley) July 26, 2014
Sony Music Nashville, Paisley's record label, then sent disconcerted emails to the artist. Paisley promptly took screenshots of those emails and posted them online. Label executives and managers warned that there was a lack of permission for leaks of this sort.
Paisley tweeted this email that he sent to the reps:
I really do love my record label.Especially for puttin'up with my $h@t. But I love ya'll even more. Ha! Priorities. pic.twitter.com/n8FFzuRNQ1

— Brad Paisley (@BradPaisley) July 26, 2014
Here's one exchange between Sony and the Grammy Award winning artist:
Let me say: I love recording at Sony. I love my manager, my publicist, my agent. But yes, I'm doing this largely on my own. — Brad Paisley (@BradPaisley) July 30, 2014
Got this from the head of the label.. Seems pretty clear to me. pic.twitter.com/FmwPWRkFj4 — Brad Paisley (@BradPaisley) July 30, 2014
So you heard the man. Promote the song "Moonshine". Here we go. Buckle up. http://t.co/MG9KUGFIbm

— Brad Paisley (@BradPaisley) July 30, 2014
And then when the label pulled the song off the Internet, Paisley tweeted:
Darn darn darn darn Darny darn darn!!!!!!! — Brad Paisley (@BradPaisley) July 30, 2014
It seems Sony Music Nashville was a good sport about the whole thing, in the end. The label retaliated in good fun, leaking Paisley's personal email address. Overton admits, "Working with Brad is like riding a roller coaster: you know you're going to scream, smile and have a wild ride… and it's generally safe."
However, in a time when record labels are fighting back against intellectual property theft, are intentional leaks like Paisley's a sign that a new business model is in order?
For decades, the music industry operated with one business model: it sold enormous numbers of albums. With the profits it produced, released, and promoted projects. In fact, record companies would be able to negotiate contracts with artists through their access to radio time and studios.
Today, with the Internet as the most valuable tool in the music business, production and release costs are dramatically altered. Single songs are available for purchase, independent of the entire album, and music streaming subscription services allow consumers to listen without purchasing any content at all. Illegal downloads and digital piracy thrive all over the globe and the music marketplace is unrecognizable as compared to decades ago.
Artists like Brad Paisley just get it. His audience can most likely torrent his music for free; however, he undoubtedly won brownie points with fans, allowing for heightened audience interaction and valuable hype. This kind of communication with a fan base that must be convinced to purchase music as opposed to stealing it is just plain smart.
In a video posted to his Facebook account, Paisley explains his reasons for releasing his album early. "It really came down to me wanting to present these songs to the world in the best way possible," he explained. "It's all about connecting dots and letting you hear this record the way I intended."
The new album was officially released on Tuesday, August 26 by Sony Music Nashville. We already knew all the words to almost every song but that's what makes the moonshine taste so much sweeter.