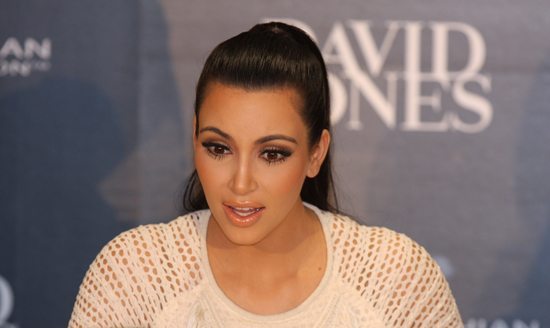 Image courtesy of [Eva Rinaldi via Flickr]
Humor
Iran Officials Think Kim Kardashian is a Secret Agent: Maybe They're Right?
By
|
People love to joke that the Kardashian/Jenner clan is taking over the world, but some in Iran have genuine concerns.
Iranian officials have accused the family's top bread winner, Kim Kardashian, of being a secret agent. On an Iranian news program Sunday night, the Iranian Revolutionary Guard's Organized Cyberspace Crimes Unit (OCCU) accused Kim of conspiring with Instagram to corrupt Iranian women with "un-Islamic photos."
OCCU spokesman Mostafa Alizadeh explained that the reality star "targets" Muslim women with photos that are contradictory to an Islamic lifestyle:
They are targeting young people and women. Foreigners are behind it because it is targeting families. These schemes originate from around the Persian Gulf and England. When you draw the operational graph, you will see that it is a foreign operation. Ms. Kim Kardashian is a popular fashion model so Instagram's CEO tells her, 'make this native.' There is no doubt that financial support is involved as well. We are taking this very seriously.
This comes just as eight women working as online models for social media platforms such as Instagram were arrested in Iran as part of the country's larger crackdown on "un-Islamic" photos.
But now that I think about it, this is not the first time Kim K has been accused of espionage-like involvement. I decided to do some digging to see if Kim could in fact be a spy, and came to the conclusion…possibly? So, without further adieu:
Here's Three Reasons why Kim Kardashian Could Actually be a Spy
1. Kim's Favorite Television Shows are Very Suspicious
Once, when asked by a fan what TV shows she likes to watch, Kim answered, "I love investigating shows like 'Dateline,' 'Forensic Files,' [and] 'I Survived…'" NBC's "Dateline" regularly airs true crime stories, "Forensic Files" shows how scientists use forensic science to solve crimes, and "I Survived…" profiles people's near death experiences.
I'm noticing a suspicious theme here.
2. Kim Loves Investigating Her Own Family
If you watch "Keeping Up With the Kardashians," you'd know that Kim has a history of investigating her family and hiring private investigators. In an episode of the KUWTK's spinoff "Kourtney & Kim Take Miami," Kim is suspicious of Kourtney's then-boyfriend Scott Disick, so she hires a P.I. to track him.
Watch her shady sleuthing in the clip below:
If she'd investigate someone she considers to be family, who's to say she wouldn't be down for investigating entire countries like….idk IRAN!
3. Tina Fey is Convinced There's Something Amiss 
Tina Fey joked that the reality star was "made by Russian scientists to sabotage our athletes" in her comedic bestseller "Bossypants."
I mean #NuffSaid. You may be on to something, Iranian officials. We'll have to keep an eye out.