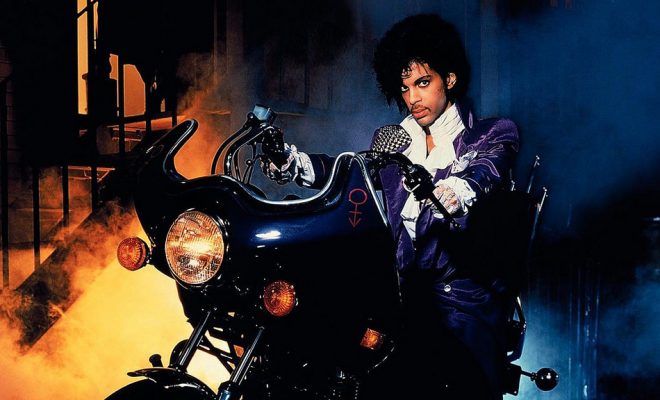 "Episode 191: Purple Rain" Courtesy of Sound Opinions: License (CC BY-SA 2.0)
Entertainment
Prince's Estate Files Lawsuit to Block Release of New Music
By
|
On Tuesday, Rogue Music Alliance, an independent music label based in Vancouver, Washington, sent out a press release announcing that a new EP from Prince was set to come out on Friday–the one-year anniversary of the Purple One's death. However, Prince's estate and Paisley Park Enterprises have hit the EP's sound engineer, George Ian Boxill, with a federal lawsuit with the aim of stopping Friday's release, according to a report from KSTP.
The lawsuit came only hours after RMA's press release that revealed details about the six-song EP, called Deliverance. According to the press release, Deliverance includes six songs, all of which were recorded from 2006-2008, and were co-written and co-produced by Boxill. The bluesy title track was also released on Tuesday and can still be heard on iTunes, Apple Music, and Soundcloud.
The lawsuit, according to Minnesota's KSTP, was filed in federal court after a suit filed in a district court was withdrawn in order to compensate for the fact that Boxill currently resides in California. KSTP reports that the district suit–which we can assume is almost identical to the aforementioned new federal suit–claimed that Boxill is holding a number of unreleased Prince tracks that are valued at over $75,000 and is threatening to release them. That would do irreparable damage to Prince's business relationships and privacy as well as violate a confidentiality agreement that Boxill signed in the studio. In the suit, Prince's estate is requesting for the recordings to be returned.
In the RMA press release, Boxill claims the decision to release Deliverance through an independent label is something that "Prince would have wanted." "Prince once told me that he would go to bed every night thinking of ways to bypass major labels and get his music directly to the public," Boxill is quoted as saying in the press release.
As many people have pointed out, especially the popular tech blogger and Prince superman Anil Dash, Boxill's statement seems to be completely disingenuous when one looks at the history of Prince's desire to not release his infamous "vault" of thousands of songs and video projects, as well as pop culture urban legends like "A Song Called Wally."
"Prince cared very deeply about control & ownership of his recordings," Dash tweeted in a thread. "[H]e spent decades fighting the legacy of black artists having their creative work stolen or exploited. This seems like exactly that."
Disputes over Prince's expansive back catalogue have come to the surface ever since the singer's death last year. In February, as Variety reported, Universal Music Group announced that it had required the rights from Prince's estate. However, as The Wall Street Journal reported, UMG is seeking to nullify the deal and get its money back as a number of the recordings that the company was promised in the deal still belong to Prince's original label Warner Bros. Records, which struck a deal with the singer in 2014 after almost 20 years of estrangement.
As of this morning, Deliverance is still set to drop on Friday with a physical release set for June 2.