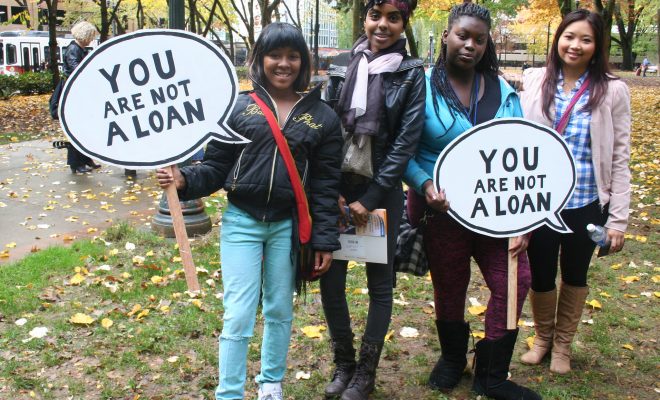 "student loan protest" courtesy of Sarah Mirk; License: (CC BY 2.0)
Education
How Much Do You Know About Your Student Loan Debt?
By
|
Student loan debt–it's one of the most pervasive concerns for young adults today. Approximately 44 million Americans have student loan debt–those Americans in total owe about $1.3 trillion. The average graduate of the Class of 2016 will hold $37,172 in student debt by the time they graduate. But how much do students actually know about the debt they're taking on? A new survey conducted by LendEdu, a New Jersey-based company that calls itself the "Kayak of student lending" shows that they may not know that much.
One of the biggest revelations from LendEdu, which surveyed current college students, is that about half of college students surveyed think their loans will qualify for federal forgiveness after graduation–and most of them are probably wrong. In truth, there are very few ways to get your loans completely forgiven. One way is to go into public service work for a minimum of 10 years, but a relatively small percentage of the population follows that path. A few other (rare) ways that students manage to qualify for student loan forgiveness is by accepting certain teaching programs that place teachers in underserved areas, or if the university you attended shuts down while you're a student or within 120 days after you graduate. For the record, death also qualifies someone for student loan forgiveness…but it's probably safe to say that most students aren't including that as a viable option when it comes to not paying back student loans.
Other questions on the survey indicated that the respondents don't have a great handle on a few different aspects of student loans. According to the survey: "80 percent of college students could not identify the current interest rates on undergraduate federal subsidized and unsubsidized student loans." Similarly, "79 percent of college students could not identify the current repayment term of a federal student loan" and "when asked, 64 percent of college students incorrectly believe that it is possible to refinance student loan debt with the federal government."
This of course, isn't to say that these are facts that all borrowers of student loans should have off the top of their heads. Student loans–from applying to paying back the debt–are complicated. But at the same time, it's important to teach and encourage realistic expectations as student loan debt continues to grow.