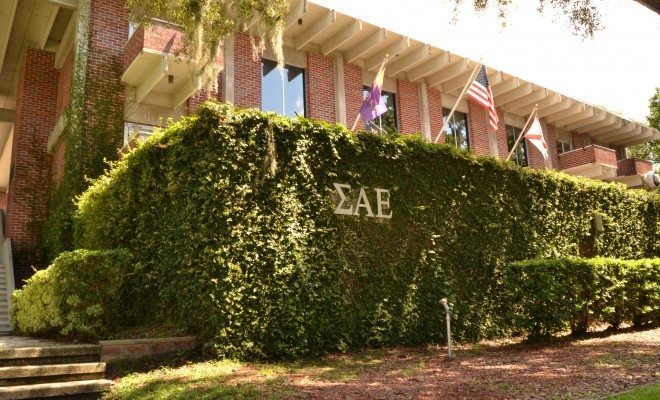 Image courtesy of [Artie White via Flickr]
Education
Greek Fraternities' Swift Fall From Grace: What's Next?
By
|
Racist chants, hotel trashing, and naked photos of unconscious women. These things have become seemingly synonymous with college fraternities after a slew of scandals in recent weeks thrust Greek Life even further under the nation's microscope.
First, the University of Oklahoma's Sigma Alpha Epsilon chapter was caught on tape singing a racist chant referencing lynching. The scandal resulted in the chapter being shut down, and some of their members were even expelled.
Then news of the University of Michigan's Sigma Alpha Mu fraternity racking up almost half a million dollars worth of damages at a northern Michigan ski resort in January surfaced. That's one hell of a hotel party that would definitely put most rockers to shame. Their fraternity was also disbanded.
Michigan's Sigma Alpha Mu frat has been permanently disbanded for ski resort rampage http://t.co/W0RmBkMyFI pic.twitter.com/Tv0E2efHwl

— David Nelson (@DavidNelsonNews) March 18, 2015
Now Penn State's chapter of Kappa Delta Rho is following suit with its own form of debauchery. A secret "invite only" Facebook group was discovered that served as a hub for photos of naked and passed out women, hazing, and records of drug sales. Not good Penn State, not good.
Nude photo scandal rocks Penn State fraternity: http://t.co/3XVSdei1hI pic.twitter.com/yB79OldNFg — AOL.com (@AOL) March 17, 2015
The page had a total of 144 active members including current fraternity members and some alums. CNN reported,
The former frat member who tipped off police told authorities that a second Facebook page called '2.0' allegedly had been created around April 2014 following complaints from a woman whose photo was posted on it, the affidavit said. The earlier version of the page was titled 'Covert Business Transactions.'
The frat has been suspended for one year by the Penn State Interfraternity Council, while university officials continue to investigate the incident. Even with its suspension, some are still unhappy with the way Penn State is dealing with the scandal.
According to CNN, David Clohessy, director of the St. Louis-based Survivors Network of those Abused by Priests, or SNAP, said in a statement the latest allegations call into question the university's handling of sex crime reports. Clohessy said,
For years now, Penn State enthusiasts have repeatedly reassured everyone who'd listen that the university's problematic culture about sex crimes had been reformed. The latest allegations — that a fraternity members posted nude pictures of women on Facebook, some of whom appeared to be sleeping or passed out — raise serious doubts about those claims

…The Kappa Delta Rho is a wake up call. But the Sandusky case should have been a wake up call too.
These scandals have Greek Life members nationwide worried what will be next. Organizations have even begun investigating their own chapters just to be safe. It is unfortunate to see the reputations of these organizations being tarnished by the actions of a few, especially when they were created to be pillars of leadership and philanthropy within the community. Instead fraternities are being referred to as offensive, discriminatory, and sexually abusive, or in other words, a PR consultant's worst nightmare. Cleaning up this image won't be easy, especially if more scandals continue to surface, but holding these boys responsible is a good first step.