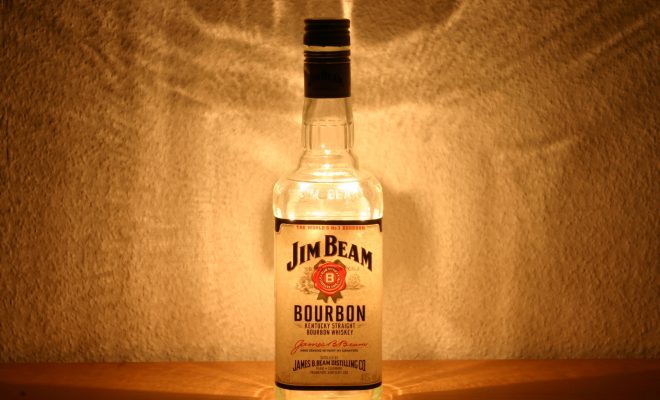 Image courtesy of [Ethernum via Flickr]
Society and Culture
Whiskey Woes: Jim Beam Workers Strike
By
|
More than 200 workers at Jim Beam distilleries in Kentucky are striking, protesting long work hours and what they say are unfair scheduling policies. This strike comes after the workers' union rejected two deals from the company over the last couple weeks.
Jim Beam's popularity has been growing in recent years, part of an overall boom in the sales of American distilled spirits.  Not only have the sales of distilled spirits increased in the U.S., but they've increased internationally as well. Fortune's Jonathan Chew pointed out earlier this year:
Exports to overseas markets such as the U.K., Canada, and Germany have more than doubled in the past decade, from $743 million in 2005 to a projected $1.56 billion last year.
Bourbon specifically, which is almost exclusively produced in Kentucky, has seen a big uptick in sales. Production of bourbon hit a 50-year high last year, and as the world's largest bourbon producer, Jim Beam was responsible for a large part of that.
But this increase in production added extra burden for the workers. The Jim Beam workers who are now striking claim that they had 60-80 hour work weeks. They also claim that the company has hired a lot of temporary workers and doesn't pay attention to seniority or dedication when assigning shifts. The company has made an offer to the union that includes pay increases, and attempted to deal with the overtime and temporary worker issues, but it was rejected. Now the workers are striking until a new deal is made.
Jim Beam workers (@UFCW Local111D) are on strike in Kentucky. It's not straight whiskey if workers are disrespected. pic.twitter.com/pSz61xcmzm

— John Nichols (@NicholsUprising) October 15, 2016
Jannelle Mudd, president of the United Food & Commercial Workers Local 111D, said:
All through negotiations, we tried to make the point that what we were trying to change is the atmosphere. It was about the people, not so much about anything else. It kind of fell on deaf ears.
It's unclear if the strike will affect availability of Jim Beam–the company said it doesn't expect any shortages, but the workers say that there will be efficiency issues without them there. And who knows when this will get resolved, because it seems to have gotten more personal than just about pay. Mudd said:
Most importantly, we are seeking a better work/life balance and a return to the family values and heritage upon which the Jim Beam brand is based. All of us work hard and have earned and deserve a better life.