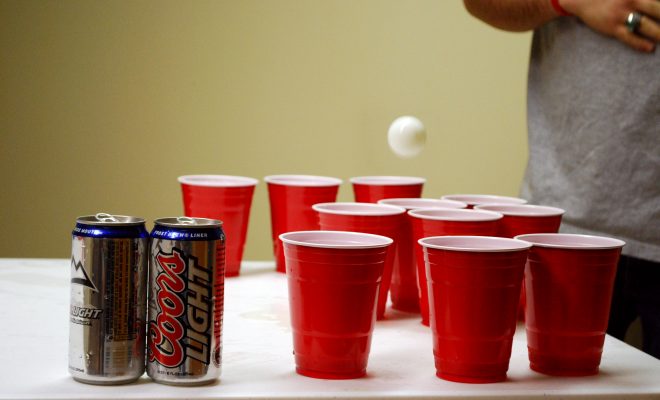 "beer pong" Courtesy of [Laura Bittner via Flickr]
Society and Culture
Malia Obama: A Wallflower Under Public Scrutiny
By
|
Festivals and fraternities–the life source of the average college-bound American teenager–hounded the first family as Malia Obama challenged the roles of acceptable teenage behavior.
President Barack Obama's 18-year-old daughter graduated from the prestigious Sidwell Friends School earlier this year and unexpectedly decided to take a gap year before attending Harvard. In recent months, Malia's achievements have been overshadowed by a slew of leaks depicting the recent graduate playing beer pong and smoking at festivals.
In July, Malia skipped the Democratic National Convention to enjoy numerous artists and setlists at the Lollapalooza music festival in Chicago. Concert-goers photographed and filmed Malia dancing against the tide of crowds–her secret service in tow. Unfortunately, the extra security couldn't stop the national spotlight from pointing directly at the teen, after cameras caught her allegedly smoking pot and twerking during the concert lineup.
Radar Online released the viral snapshot and in minutes, numerous online outlets exploded criticizing the partying teen's behavior.
Twitter users strongly opposed online outlets overanalyzing Malia's actions, and the children of politicians followed suit by showing support. Meghan McCain, daughter of U.S. Sen. John McCain, lashed out against the media for its portrayal of the teen with a tweet reading: "leave Malia Obama alone!"
.@connortryan @PageSix leave Malia Obama alone!

— Meghan McCain (@MeghanMcCain) August 10, 2016
If Malia was in fact smoking marijuana, her behavior wouldn't be atypical. In fact, one in every 17 college students is smoking marijuana on a daily or near-daily basis, defined as use on 20 or more occasions in the prior 30 days, according to a 2015 study from the University of Michigan.
"It's clear that for the past seven or eight years there has been an increase in marijuana use among the nation's college students," said Lloyd Johnston, the principal investigator of the study.
Malia's alleged marijuana use isn't the only thing she's been criticized for. She once again made headlines after a snapchat depicting her playing beer pong at a party in Maryland on August 23 surfaced. The picture released by the Daily Mail shows Malia surrounded by a patriotic table covered in red, white, and blue confetti and a sprawl of Bud Light and Miller Lights cans. The infamous red solo cup was also fully present.
The president's daughter helps contribute to the number of students her age who drink underage. A Villanova study shows, nationally, about 80 percent of college students consume alcohol. 
This is not the first time presidential kids and the children of candidates have made headlines due to their antics–from Bristol Palin's teenage pregnancy out of wedlock to George W. Bush's 19-year-old twins Barbara and Jenna underage drinking in Texas–and it surely won't be the last.
The White House has opted to remain silent in the wake of the media firestorm surrounding Malia. The eldest Obama daughter, however, subtly responded to her critics at Philadelphia's Labor Day weekend Made In America Music Festival. Malia was caught sporting a Harvard cap and a tee with the befitting hand-written words "Smoking Kills" scrawled across.