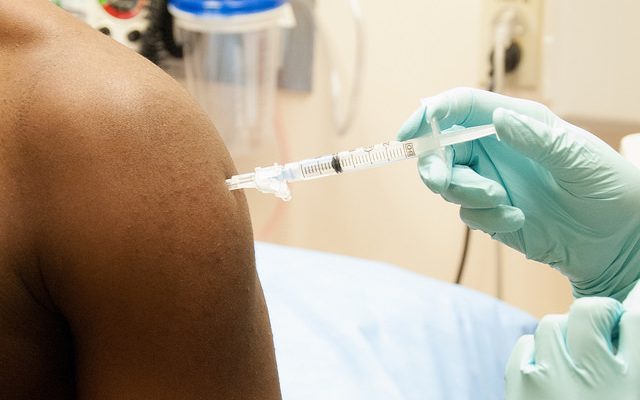 "Vaccination" courtesy of Global Panorama : License (CC BY-SA 2.0)
Society and Culture
Children Fall Short of Global Vaccination Goal, New Data Says
By
|
Ten percent of the world's children aren't meeting basic global vaccination standards. New data from the World Health Organization (WHO) and UNICEF estimates that in 2016, nearly 12.9 million infants did not receive any vaccinations. This includes the first dose of the DTP vaccine, which is considered to be an essential vaccination for children.
DTP is the three-round vaccination that protects against diphtheria, tetanus, and pertussis, commonly known as whooping cough. According to a release from WHO and UNICEF, this immunization is "one of the most successful and cost-effective public health interventions," preventing 2-3 million deaths annually.
The data shows that in 130 of 194 WHO member states, at least 90 percent of infants received their full course of vaccinations at the national level. Additionally, 6.6 million infants failed to complete all three doses of the DTP immunization series after receiving their first dose.
Jean-Marie Okwo-Bele, director of immunization, vaccines and biologicals at WHO, said in the release that lack of vaccination can indicate overall health of children in a region.
"These children most likely have also not received any of the other basic health services," Okwo-Bele said. "If we are to raise the bar on global immunization coverage, health services must reach the unreached. Every contact with the health system must be seen as an opportunity to immunize."
Getting to 90 Percent
While 86 percent of children received their routine vaccinations in 2016, WHO's goal is to vaccinate 90 percent of children globally. The number has remained at about 86 percent since 2010, and the new data shows there has not been any improvement in the last year.
This 90 percent coverage target is part of the agency's Global Vaccine Action Plan, which was endorsed in May 2012 by WHO member states. To meet this goal, WHO says, "an estimated 10 million additional infants need to be vaccinated in 64 countries, if all countries are to achieve at least 90% coverage."
Immunization Barriers
Vaccinating these additional 10 million children has proven difficult due to politics and location. Eight countries failed to vaccinate at least 50 percent of their infants against DTP. Most of these nations are war-torn countries like South Sudan and Syria, where conflict has resulted in the destruction of hospitals and health centers, making it difficult for vaccinations to reach many areas.
Unsurprisingly, poverty was also shown to impact how well a country's children were vaccinated. According to the data, poor, urban populations are most at-risk of being under-immunized. This is a global problem, but particularly in "rapidly growing slums in Africa and Asia," the release reads.
Robin Nandy, chief of immunizations at UNICEF, said in the release that immunization is "one of the most pro-equity" public health interventions.
"Bringing life-saving vaccines to the poorest communities, women and children must be considered a top priority in all contexts," Nandy said.
Still, foreign aid and other factors have given some nations the ability to break through the poverty obstacle. Okwo-Bele told NPR that poor countries, like Tanzania, have improved their DTP vaccination rates because of their prioritization of immunizations as a national issue.
"[Tanzania] has had the political will to make immunizations a priority, and with foreign health aid, has built a well-organized system to deliver vaccines where needed, with trusted community health workers and reliable refrigeration for vaccines," according to NPR.
UNICEF and WHO are continuing to research the impact of economic inequality on vaccination.