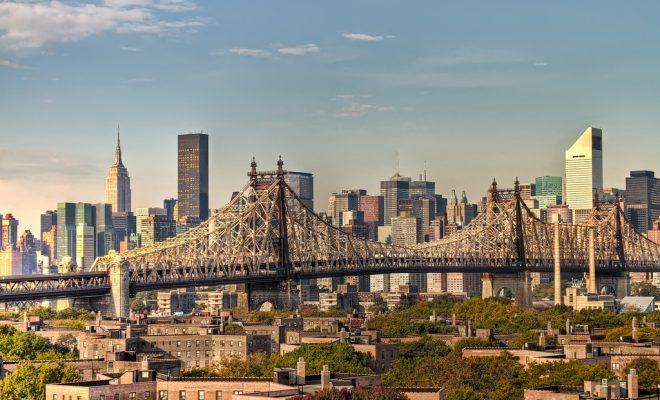 "new york city :: skyline" courtesy of hjjanisch; license: (CC BY-ND 2.0)
Crime
White Man Who Traveled to New York To Kill Black Men Charged with Hate Crime
By
|
Late Monday night, 28-year-old white Army veteran James Jackson from Baltimore reportedly stabbed black New Yorker Timothy Caughman, 66, to death with a sword. Jackson later told police that he has hated black men his whole life, and that he traveled to New York to kill black men. Jackson turned himself in on Wednesday morning just after midnight. The group behind the Women's March called for people to join a march against hate crimes in honor of Caughman on Friday afternoon.
NYC: Meet us at 6pm in Union Square as we stand against hate crimes. #SayHisName: #TimothyCaughman! https://t.co/QD14criLvA pic.twitter.com/dPfhZojzIU

— Women's March (@womensmarch) March 24, 2017
Jackson, like Dylann Roof, had written down his thoughts and beliefs about race and told police that he planned to deliver them to the New York Times. He took the bus to New York, aiming to get a lot of news coverage. According to his manifesto, he planned to kill multiple people.
Jackson was arraigned in Supreme Court in Manhattan on Thursday, charged with second-degree murder as a hate crime. But the prosecutor, Joan Illuzzi, said that additional charges may be forthcoming, such as first degree murder as "this is an act, most likely, of terrorism." A police officer who spoke on the condition of anonymity told the New York Times that Jackson said that he had hated black people his whole life, since he was a child. Apparently he was particularly upset by black men who are in relationships with white women.
This act by someone who appears to be a white supremacist–although there are no confirmed ties between Jackson and any groups or organizations, he was obviously fueled by racial hate–has caused outrage. Many people are wondering why many politicians are not doing more about this type of homegrown terrorism, let alone acknowledging it.
Many hours ago, a terrorist stabbed &killed an American in a major international city. No not London but NY. A white supremacist. Forgotten.

— Wendell Pierce (@WendellPierce) March 23, 2017
Hi @PressSec, this is James Jackson. Extremists like him have been committing underreported acts of terror against Americans for centuries. pic.twitter.com/DeM7imzS47

— Dab Aggin (@DabAggin) March 24, 2017
There is also a notable difference in how the media covers murders of people of color compared to white people. New York Daily News writer Shaun King lashed out at his own colleagues on Friday, criticizing them for focusing on Caughman's criminal history; he was arrested a couple of times for petty crimes, most recently 15 years ago. As King points out, a criminal record is irrelevant to murder. But the media appears to be more likely to focus on criminal history when writing about a black man who was killed than, for example, when covering the deaths of white people who tragically died in the London terror attack.
What my employer, the @NYDailyNews, & other outlets, did to #TimothyCaughman, a hate crime victim, was plain wrong.https://t.co/09OPGkG8pO

— Shaun King (@ShaunKing) March 24, 2017
Caughman was a well-liked, quiet man from Queens, who used to run a federal anti-poverty program for youths. He had many different jobs during his lifetime and at the time of his death he lived in a room in a building for formerly homeless people transitioning to permanent housing. Caughman also read a lot and loved getting autographs from celebrities and keeping up with celebrity news. Actress Shari Headley used to communicate with him on Twitter, and she expressed her condolences on the social media site.
My heart is heavy typing this. Timothy Caughman was a fan of mine since 1991. He only spread LOVE His murder was senseless. RIP @timrock715 https://t.co/gZLt45bqQ6

— Shari Headley (@shariheadley) March 23, 2017
New York Mayor Bill de Blasio spoke out against the crime on Friday, calling it "domestic, racist terrorism," and comparing it to Dylann Roof's killings in Charleston. He said that the election of Donald Trump has "unleashed forces of hate all over the country" and that attackers of this kind need to be punished harshly. But Trump, who quickly expressed condolences for the American tourist who was killed in the London attack, has yet to say anything about his fellow New Yorker.