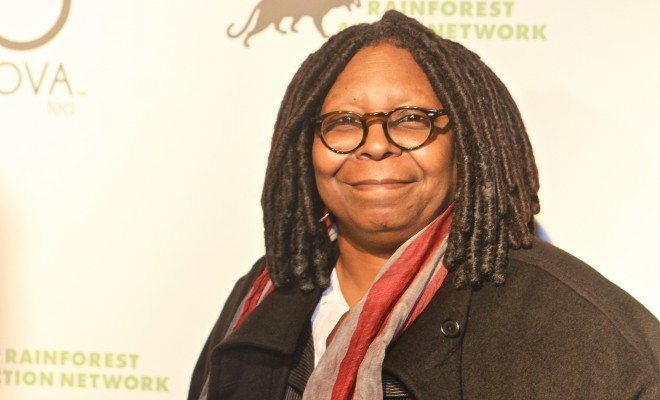 "Eco Rock 2013" courtesy of [Rainforest Action Network via Flickr]
Cannabis in America
Whoopi Goldberg is a Ganjapreneur Who Wants to Help Treat Your Period Cramps
By
|
Whoopi Goldberg is the latest celebrity to try to get in on the legal marijuana market. She has started the "Whoopi & Maya brand," which will produce marijuana-infused products advertised as solutions for pesky period cramps.
Whoopi Goldberg partners with Maya Elisabeth, And announces launch of @whoopiandmaya. A product line for women. pic.twitter.com/sUC5N8rs8r

— _DCNetwork_ (@_DCNetwork_) March 30, 2016
Goldberg is teaming up with Maya Elisabeth from Om Edibles, an all-female edibles company, hence the company name. They plan on starting with four products, available this April. The products will only be sold in California right now due to complicated legal restrictions in other states. According to the Daily Beast, the product line will include:
A 'raw sipping chocolate' infused with CBD or THC, a tincture (liquid extract) for 'serious discomfort,' a THC-infused bath soak, and a topical rub for localized pain.
Goldberg has been transparent about her marijuana use, particularly the fact that she uses a vape pen to help her with pain relief and dealing with stress. Goldberg explained her motivation for creating these products, highlighting the difficulties that are inherent in using medical marijuana:
For me, I feel like if you don't want to get high high, this is a product specifically just to get rid of discomfort. Smoking a joint is fine, but most people can't smoke a joint and go to work.

This, you can put it in your purse. You can put the rub on your lower stomach and lower back at work, and then when you get home you can get in the tub for a soak or make tea, and it allows you to continue to work throughout the day.
It makes sense that Goldberg wants to tap into the rapidly-growing marijuana market. The results of early legalization in states like Colorado and Washington look very good, the market is growing annually by 31 percent, and some experts estimate that it could become a $20 billion market by 2020.
While others have called their product niche, Goldberg and Elisabeth disagree, given that women do make up a little over half of the United States population. If the marijuana industry grows as quickly as is expected, and these products catch on, Goldberg and Elisabeth could have a total winner on their hands.