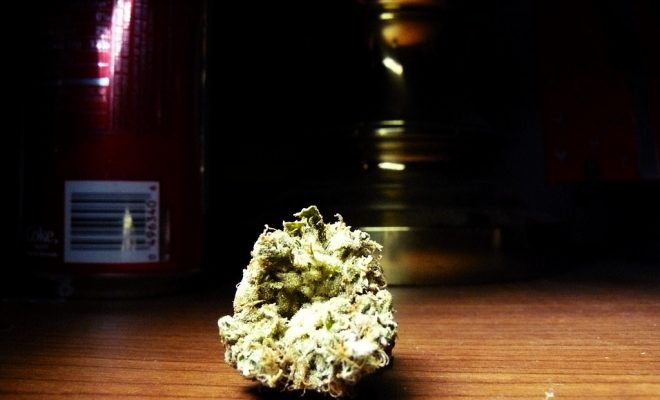 Image Courtesy of tanjila ahmed; License: (CC BY 2.0)
Cannabis in America
UK Mom Credits Marijuana With Saving Son From Cancer
By
|
As Deryn Blackwell was dying of cancer, his mother, Callie, sought out something, anything, that could relieve his pain. Finally, after three excruciating years of watching Deryn suffer, she found a potential aid: marijuana.
Now, three years after illicitly providing marijuana to Deryn–his doctor would not prescribe him the drug–Callie claims it saved his life. She reveals Deryn's story in a new tell-all book set for release next month in Britain titled "The Boy in 7 Billion."
While Deryn's story is indeed inspiring, researchers caution that it cannot be taken as evidence that marijuana can treat cancer. Anecdotal tales like Deryn's exist, but clinical trials have not found concrete evidence that marijuana is an effective cancer treatment. It is also unclear if the cannabis tincture Deryn consumed was the direct cause of his recovery.
"It could have been a number of things," Emma Smith, a science information manager for Cancer Research UK, told Britain's online newspaper The Independent. "Perhaps cannabis did help, perhaps it didn't."
"Because it's just one person's story, without a doctor analyzing all the clinical evidence and comparing him to somebody that didn't get cannabis, we still don't know for certain it was the cannabis that helped him."
Deryn's ordeal began in 2010 when, at ten-years-old, he was diagnosed with leukemia. Eighteen months later he was diagnosed with a second rare form of cancer.
In an excerpt from Blackwell's book printed in the Daily Mail, Callie writes:
By 2013, after nearly four years of hospital treatment, it seemed that the only thing left for him were opiate drugs to ease the pain as he reached the end of his life. Like any mother would be, I was desperate to find something to alleviate his suffering.
Marijuana has been shown to alleviate some side effects of cancer, including nausea. But according to the American Cancer Society, studies on cannabinoids have not shown that "they help control or cure the disease."
Medical marijuana is still illegal in the United Kingdom. The only licensed marijuana-based medicine available is Sativex, which is used to treat patients with multiple sclerosis.
After conducting extensive research on the benefits of marijuana, Callie asked Deryn's doctor if Bedrocan, a cannabis-based painkiller, would be a better alternative than her son's "mind-numbing morphine." The doctor said that while it was an effective painkiller, it had not been tested on children and she couldn't prescribe it to him.
That's when Callie and her husband, Simon, decided to take matters into their own hands. Simon traveled to a nearby service station and purchased cannabis illegally from a dealer. Back home, Callie whipped up a tincture that would be compatible for a vaporizer pen, which Deryn would later use when the doctors weren't around.
"We felt like naughty schoolkids who were having a sneaky cigarette around the back of the bike sheds," Callie wrote.
Devyn, now 17, made a gradual recovery and is currently attending school and working as a part-time chef of vegan food.
Callie said she'll probably "never be totally free" of the fear that his cancer will return, but she is confident her son can endure. "I am reminded of my miracle boy every time I look at Deryn and I know deep in my heart that whatever the future may throw at us, we can cope," she wrote. "We always do."