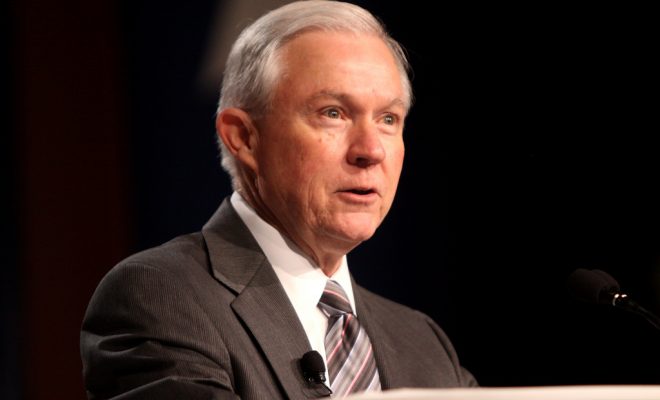 "Jeff Sessions" Courtesy of Gage Skidmore; License: (CC BY-SA 2.0)
Cannabis in America
Provision in Spending Bill Protects States' Medical Marijuana Laws
By
|
A provision that directs the Justice Department to respect states' medical marijuana laws is included in the new spending bill, which Congress is expected to pass this week. The provision, known as the Rohrabacher-Farr Amendment, should soothe concerns that Attorney General Jeff Sessions will increase enforcement of the federal marijuana ban–at least regarding medical marijuana. The amendment does not explicitly protect recreational marijuana laws, which are in place in eight states and D.C.
Initially introduced in 2014–and included in every budget since then–by Representatives Dana Rohrabacher (R-CA) and Sam Farr (D-CA), the amendment bars the Justice Department from allocating funds to enforcing the federal ban on medical marijuana activities in states where use, distribution, and cultivation is legal in some capacity. Twenty-nine states and D.C. have legalized marijuana for medical use. More than a dozen others have legalized cannabidiol (CBD)–a non-psychoactive element of marijuana that has therapeutic effects–for limited use.
"None of the funds made available in this Act to the Department of Justice may be used […] to prevent any of them from implementing their own laws that authorize the use, distribution, possession, or cultivation of medical marijuana," the amendment states.
After weeks of uncertainty about what the budget would include, Congress reached an agreement on how to fund the government last weekend. President Donald Trump's promised border wall with Mexico will not receive government money, according to the agreement, which the House is scheduled to take up on Wednesday. Democrats were largely happy with the spending bill, which will fund the government through September.
The budget placates Democrats who were worried about deep cuts to the EPA's budget, or funds allocated to hard-line immigration programs, like a deportation force. And the renewal of the Rohrabacher-Farr Amendment should, at least in regards to medical marijuana, alleviate concerns that the Trump Administration will initiate a war on marijuana.
Sessions has made comments–before he was attorney general and when he was an Alabama Senator–that have given pro-marijuana advocates, and a growing number of Republican and Democratic lawmakers, cause for concern. He once said, "good people don't smoke marijuana." He has equated the dangers of medical marijuana and heroin. And he recently affirmed that it is illegal to use or distribute marijuana, "whether a state legalizes it or not." But the inclusion of the Rohrabacher-Farr Amendment should, at least in part, temper concerns that Sessions is gunning for a major enforcement campaign.
Rohrabacher, a member of the recently established Congressional Cannabis Caucus, wrote a letter in April to members of the House Appropriations Subcommittee on Commerce, Justice, Science, and Related Agencies, asking them to renew his eponymous amendment. "We believe such a policy is not only consistent with the wishes of a bipartisan majority of the members of the House, but also with the wishes of the American people," he wrote.