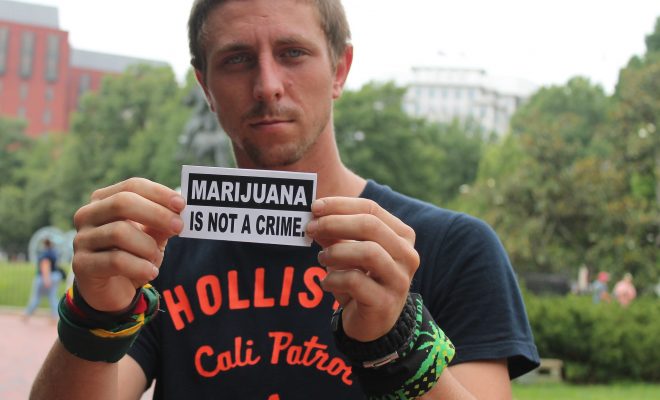 Image Courtesy of Elvert Barnes; License: (CC BY-SA 2.0)
Cannabis in America
Poll: More Than Half of American Adults Have Tried Marijuana
By
|
A new poll released on Monday sheds light on Americans' attitudes toward marijuana legalization, the social stigmas attached to the drug, and its perceived health effects.
Yahoo News and the Marist Institute for Public Opinion conducted the "Weed & the American Family" survey by polling 1,122 adults (18 and over) around the country, and it is possibly the most comprehensive look at the state of public opinion on marijuana in America today.
With a new administration in the White House, and the rapidly shifting landscape of state-level marijuana legalization, it's useful to know where American adults stand on marijuana-related issues.
Broadly speaking, the study found: many American adults see marijuana as potentially dangerous for their children, but no more than other substances; most Americans favor legalizing medical marijuana, though less than half support legalizing recreational marijuana; and there is still a bit of a stigma attached to marijuana use.
The poll found that 52 percent of American adults have tried marijuana at least once, but only 22 percent of people said they currently use marijuana–63 percent of this group said they use it regularly. Among the adults who said they have tried marijuana, 65 percent are parents and 30 percent are parents with children younger than 18 years old.
According to the survey, parents do not view marijuana as any more dangerous for their children than other potentially risky activities like smoking cigarettes, drinking alcohol, or having sex. Only one-fifth of respondents said marijuana is their top concern for their children. Despite the general prevalence of marijuana use among American adults, there still seems to be a stigma attached to using the drug.
"While adults nationally are more likely to report that a close friend would approve of their use of marijuana for recreational purposes if it were legal, they are less likely to think their spouse or children would condone their use of the drug," the authors of the poll wrote.
The study found that the vast majority of American adults, or about 82 percent, support legalizing medical marijuana. Support for legalizing recreational marijuana is considerably less, at about 49 percent. And in terms of enforcing the federal ban on marijuana, most Americans said the Trump Administration should not deviate much from how the Obama Administration enforced it.
"Looking at the current laws in place nationally, a majority of Americans think the Trump Administration should be at least as tough, if not tougher, than the Obama Administration on enforcing the federal laws against the recreational use of marijuana," the authors wrote. "However, nearly half of Americans think the Trump White House should not be as tough when it comes to enforcing federal laws against the medical use of marijuana."