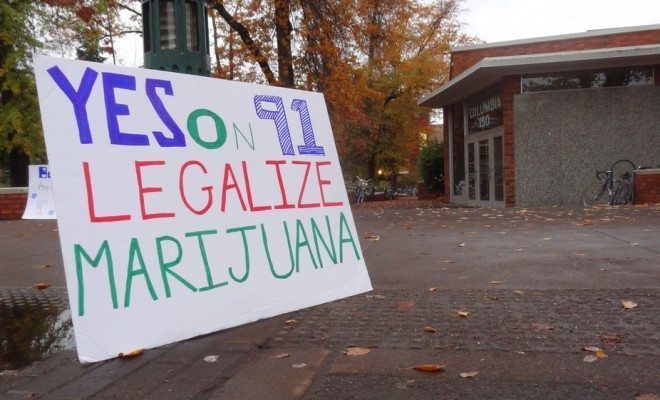 Image courtesy of [Wolfram Burner via Flickr]
Cannabis in America
Oregon's First Week of Legalized Weed Sales Rakes in $11 Million
By
|
Oregon's first week of selling legalized marijuana has been, by pretty much all accounts, a success. The first week of sales topped an estimated $11 million, blowing sales from other states with legalized weed, including Colorado and Washington, out of the water. If those sales keep up, Oregon can expect to see a pretty noticeable bump in new revenue when the sales taxes kick in this January.
Oregon began selling legal marijuana for recreational uses on October 1, after Ballot Measure 91 to legalize it was successful during the 2014 midterm elections. Just over 56 percent of voters voted to legalize marijuana, and the state took almost a year to put in place the necessary regulations and protocols to sell legalized week. However, there are still some aspects of the industry that are being sorted out.
Currently, only adults 21 and older are allowed to purchase marijuana. Only "flower and dry leaf products, plants, and seeds" are being sold and there are restrictions on the amounts of those items that are able to be sold. Other products, like edibles, are still not being sold to recreational users as some regulation kinks are worked out, but are still available to medical marijuana license holders.
Currently, only licensed medical marijuana dispensaries are allowed to sell the products; there are roughly 200 of those in Oregon. There are plans to begin allowing standalone stores dedicated to selling legalized marijuana sometime next year. Additionally, there are some places where legalized marijuana won't be sold in Oregon, as the state has allowed individual cities and counties to prohibit the sale.
One the first day of sales–October 1–the Oregon Retail Cannabis Association estimated that there was roughly $3.5 million in sales. This is good news for the state, given that it set a tax revenue goal of $9 million for the first fiscal year. Recreational marijuana won't be taxed in Oregon until January, at 25 percent. The Oregon Retail Cannabis Association is very optimistic about that $9 million goal–it believes that the tax revenue brought in will be three to four times as much.
So far Oregon's foray into legalized marijuana has been a success, even just a week in. While there are still regulations that need to be figured out, and the addition of taxes in January may slow down some sales, Oregon is on its way to being a great economic example in the argument for legalizing marijuana.