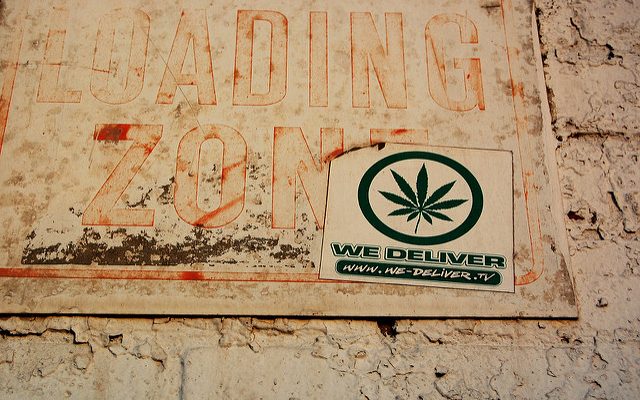 "We Deliver" Courtesy of [Ludovic Bertron via Flickr]
Cannabis in America
New York Expands Medical Marijuana Program to Include Home Delivery
By
|
New York officials are finally addressing concerns regarding the state's fledgling medical marijuana program in order to better meet patients' needs and improve accessibility. Per recommendations from the New York State Department of Health, the state will begin to offer home delivery services for patients too ill to travel, as well as enable nurse practitioners to prescribe the drug.
The changes come in response to a two-year report issued two weeks ago by the Health Department on medical marijuana use under the Compassionate Care Act. The Department of Health offered a list of 12 recommendations intended to grow the program, which has struggled to gain traction since it was first legalized in 2014.
Unlike some other states, New York does not allow medical marijuana to be smoked, but it can be consumed in a variety of other non-smokable forms including tinctures, liquids, oils, vapors, and capsules. While medical marijuana advocates have often criticized the limitations of the program, changes couldn't be made until the state had sufficient information about the problems.
"We don't want the federal government to come in and exercise an enormous amount of oversight and shut the entire program down,"Alphonso David, Governor Cuomo's counsel, told the New York Times. "We've always been interested in expanding the program. We just wanted to make sure we had the data to support it."
According to the Associated Press, the state intends to implement all 12 of the Health Department's recommendations, which also include plans for more dispensaries around the state and reviewing whether to make chronic pain a condition eligible for marijuana. Only residents who suffer from severe, debilitating, or life-threatening medical conditions like cancer, AIDS, Parkinson's disease, and epilepsy are currently eligible to qualify for the program.
Here is a list of all of the Health Department's recommendations:
Authorizing nurse practitioners to certify medical marijuana patients.
Exploring ways to make it easier for healthcare facilities and schools to possess, secure, and administer medical marijuana products.
Making several general amendments to the regulations to enhance the program, including but not limited to: streamlining manufacturing requirements and broadening the capability for registered organizations to advertise their participation in the program.
Evaluating allowing distribution of Medical Marijuana to certified patients through home delivery services provided by registered organizations.
Working with the registered organizations to make more brands of medical marijuana products available to patients.
Continuing outreach to encourage the easing of federal restrictions on and impediments to scientific research on the potential benefits of medical marijuana, as well as the Registered Organizations' ability to conduct financial transactions and establish traditional banking relationships.
Conducting a review of evidence for the medical use of marijuana in patients suffering from chronic intractable pain.
Identifying opportunities to enhance the practitioner, patient, and caregiver certification and registration system.
Meet additional patient demand and increase access to medical marijuana throughout New York State with five additional organizations over the next two years.
Making independent laboratories in NY apply for ELAP certification to perform testing of medical marijuana products for registered organizations.
Expanding the financial hardship waiver for the $50 patient and caregiver application fee for registration.
Streamlining and enhancing the practitioner registration process, to make it easier for practitioners to register with the program.
According to the Times, we can expect changes to the program as early as the end of next month.