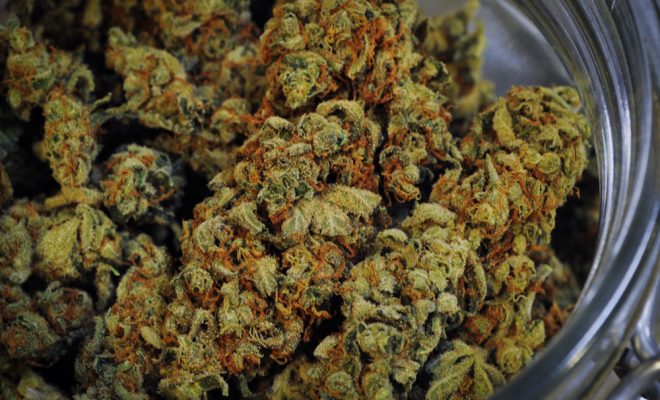 Image Courtesy of [Dank Depot via Flickr]
Cannabis in America
First Medical Marijuana App Launches in Canada
By
|
Medical marijuana in Canada: there's an app for that. Aurora Cannabis, an Alberta-based producer, launched a mobile app, believed to be the first legal app of its kind. Medical marijuana patients can now order "Sentinel," "Snow Dome," or other strains from their smartphones and tablets, streamlining the consumption process for the 80,000 to 90,000 Canadians with a prescription for pot.
"The fact is that people live on their phones and tablets," said Cam Battley of Aurora Cannabis. "They use them to shop for everything from consumer products and health products to medicine. It is an acknowledgment of the reality of how people operate today."
The app includes pictures, product descriptions, and lists the price per gram of the different strains. Customers in parts of Alberta, a western province in Canada, will receive same-day delivery, and customers everywhere get free delivery for orders of five grams or more. Cannabis is legal for medical purposes in Canada, and Prime Minister Justin Trudeau's government is expected to legalize recreational marijuana next Spring.
Presenting the first mobile app for buying federally legal medical marijuana!
Registered Aurora clients only #acmpr pic.twitter.com/sazrxUh5wA

— Aurora Cannabis Inc (@Aurora_MMJ) September 12, 2016

Aurora Cannabis is one of 35 licensed producers of medical marijuana in the country. At its production facility in Cremona, Alberta, Aurora has ten rooms in which it cultivates its plants. The company has 7,700 registered patients. Health Canada, the government arm that regulates and oversees the marijuana industry, does not allow producers to advertise their products, but they can provide basic information on their websites, and now, their mobile apps.
In an email to Canada's CBC News, a Health Canada spokesman said his department "does not have any concerns at this time" regarding Aurora's app.
There are other weed-related apps on the iTunes store. Weedmaps is a marijuana directory, providing customers with the locations of doctors and dispensaries. Leafly also has a map function, but it also acts as a compilation of information regarding the thousands of strains of the drug. But according to Battley, his company's app is the first to directly connect consumer to producer.
As cannabis laws continue to loosen in Canada and the U.S., expect to see more pot apps pop up in the near future.