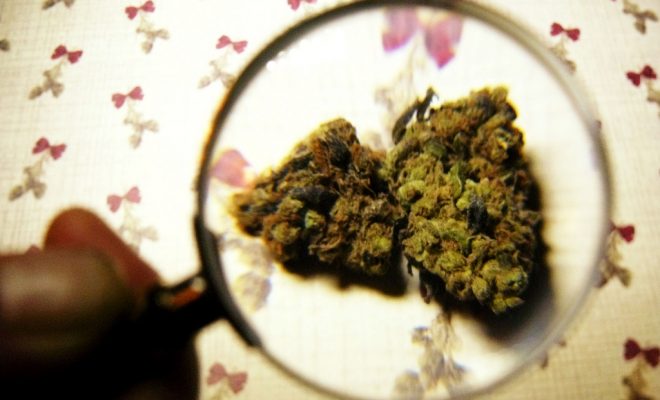 Image Courtesy of tanjila ahmed; License: (CC BY 2.0)
Cannabis in America
Oregon Issues First Recreational Marijuana Recall After Failed Pesticide Test
By
|
The Oregon Liquor Control Commission (OLCC) recalled a shipment of recreational marijuana due to a failed pesticide test, it announced on Saturday. While the OLCC issued a "health alert" for two strains that were tainted with high levels of pesticides in 2016, it was the first recall since Oregon legalized marijuana in 2015. The commission recalled over nine pounds of Blue Magoo, a strain of marijuana sold at the Buds 4 U dispensary in Mapleton, a small town 45 miles west of Eugene.
The recall was "due to the identification of potentially unsafe pesticide residue on retail plant material produced from marijuana cultivated by Emerald Wave Estate, LLC," a press release from the OLCC said. "The affected marijuana failed a pesticide test for pyrethrins exceeding the Oregon Health Authority action level for this class of pesticide."
Though Oregon legalized marijuana in July 2015, its first retail dispensary did not open until last fall. The recall is a reminder of the regulatory hurdles dispensaries and growers face in the contradictory nature of America's marijuana laws; the drug is illegal at the federal level, while eight states and Washington D.C. have legalized it recreationally. Over half of all states have legalized medical marijuana.
But given the federal classification of the drug as a Schedule I substance–in the same league as LSD and heroin–states are extra careful when drafting regulations. So how did Blue Magoo manage to slip through the regulatory cracks?
Between March 8 and March 10, according to OLCC spokesman Mark Pettinger, Buds 4 U sold 82.5 grams of Blue Magoo to 31 customers. On March 10, using the state's Cannabis Tracking System, the dispensary noticed that the strain failed the pesticide test. It immediately notified the OLCC, which issued the recall on Saturday. There have been no reports of illness since the potentially harmful buds were sold between March 8-10, according to the OLCC statement.
And although Buds 4 U quickly complied with the OLCC ("They get the gold star," Pettinger said), the dispensary could still face a penalty. Failing to keep proper records is a Class III violation which, for a first offense, could carry a 10-day suspension and a $1,650 fine. Four Class III violations in a two-year period could lead to a permanent closure.